1/48 Hasegawa Bf 109 F-4
| | |
| --- | --- |
| | Gallery Article by Greg Wise |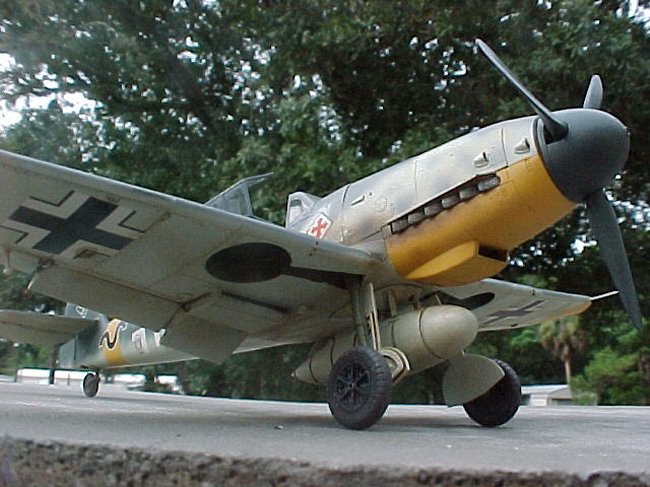 BF 109 G-2 'Flown by Oberst Gunther Rall'  
INTRODUCTION.  
This kit was a gift to me from a very good friend of mine, Randy Roddey a retired Marine living in Japan, we were chating one night about a contest being held on ARC, well to make a long story short he sent me the Hasegawa Bf109F-4 trop kit# 09012 that he had gotten from a damage sale. Thank you Randy.

BACKGROUND. 
The year was 1942 in the fall, The Place was Russia and the man was none other than Oberst Gunther Rall of JG 52. Rall would later finish the war alive and holding the title of the Luftwaffe's third highest scoring ace with 275 kills, 272 kills were on the eastern front and 3 on the western front, he flew a total of 621 total sorties and his strike rate was 2.26. Rall made his combat debut in France 1940. Rall holds the Knight's Cross Oak Leaves and Swords and serve with JG 52, JG 11, and JG300.
CONSTRUCTION. 
The kit had all the extra parts needed to change the model from a 109F-4 trop into a 109G-2 so that part was easy the built was basicly a OOB deal, but I added a True Details resin cockpit and bashed the elevators, Just a little filler was needed and the fit was poor in a few areas along the fuselage halves for a Hasegawa kit, but that is where the fun is. 

PAINTING & MARKINGS. 
The Decals came from Aeromaster's Augsburg Eagles Pt XI (# 48-461) I also used Testors Model Masters enamels, Standard RLM 74/75/76 colors, Standard yellow theatre markings, and RLM 70 for the prop/spinner assembly.
CONCLUSION 
Well, about the contest...I didn't win, but I did get a few votes
Greg Wise