1/48 Tamiya Bf-109E-4 of 3./JG 3.
| | |
| --- | --- |
| | Gallery Article by Erik Bosch |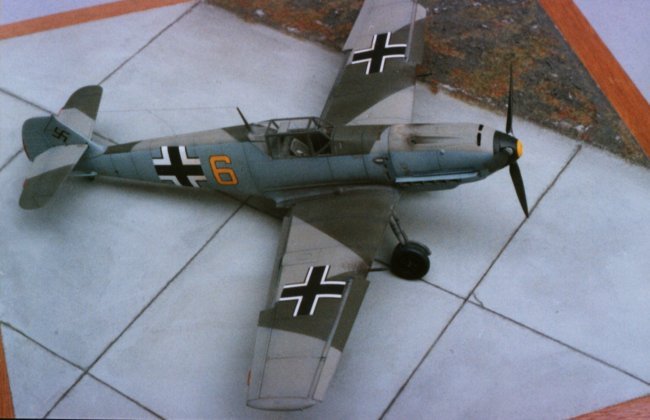 Introduction.
My main interest of Luftwaffe subjects is in Luftwaffe units that saw action or were stationed in Holland. I guess I have to specialize a bit then on 'Nachtjagd"…
But next to nightfighters, the Luftwaffe was quite active in the Netherlands during what is called the May-days. Holland was invaded on May 10th 1940 and capitulated on May 15th after the center of Rotterdam was reduced to ashes by a Luftwaffe bombardment on May 14th. Dutch army units put up a good fight on the "Grebbelinie" in the slightly hilly terrain of the midlle of Holland while the Royal Dutch Marines were known among the Germans as "die Schwarze Teufel" defending the Moerdijk bridges south of Rotterdam.
The seemingly quick defeat of the Netherlands was caused for a great part by politicians who were very reluctant to provide the Dutch armed forces with modern weaponry, trusting that Holland would keep it's neutrality as it had in 1914-1918. Despite the fact that the Dutch "Luchtvaartafdeeling" (Army Air Unit in 1940's Dutch spelling) had some quite obsolete aircraft and some more modern fighters –but still obsolete by Bf-109 standards- , they managed to destroy 345 German aircraft during those 5 days. 231 of them were Ju-52 transports, ¾ of the transport strength of the Luftwaffe at that time.  
The model.
This project came not so much of free choice, but rather because I made a near-fatal building error on the Spitfire PR. IV I was building for the contest of IPMS Lier. I had only 5 days left, so a model that could be built quickly was needed. Enter stage left the Tamiya Messerschmitt Bf-109E-4/7 I had lying around for some years. I have built it straight from the box except for some Eduard seat belts. Those I twisted on the seat back because I don't think pilots hung them neatly back while exiting their mounts after a mission. They were mostly in need of a piss and a beer, I guess! Because I used the kit cockpit unaltered, I chose to keep the "Haube" closed. Mostly I open the canopy on a model but I feel that a lone model without ground crew and/or pilots around would probably have the hood closed. If only to keep the pigeon-dung out! The only other addition to the kit was the antenna wire which was made out of dark nylon fishing line.
The colors I used were RLM 70 for the prop and spinner, RLM 71 Grün and RLM 02 Grau for the upper camo and finally RLM 65 Blau for the underside and sides of the fuselage. All colors were by Gunze Sangyo, I find them very pleasant to use. The markings came from Aeromaster sheet 48-515 "Attack in the West". There is only one E-4 on that sheet, "Gelbe 6", flown by Feldwebel Christoph Schugmann of 3./JG 3 in the spring of 1940. I'm not totally sure that this aircraft did in fact take part in the offensive against Holland, but I learned from the discussion group on 12 o'clock High! that 3./JG 3 as a unit did take part in this offensive. I guess that's close enough for me.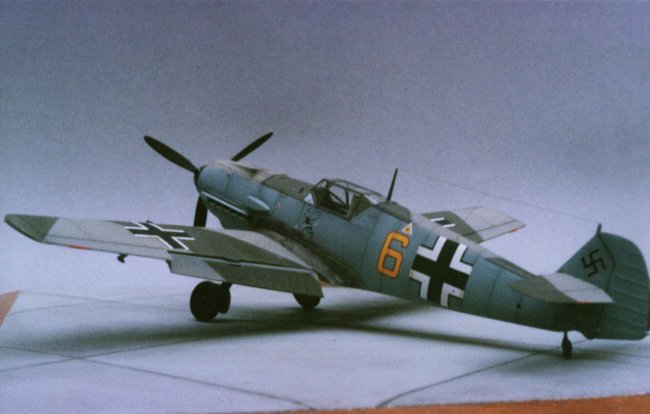 Conclusion.
Well, did I take an award in the contest? Erm…. no…. At Sunday-Competitionday at 01.00 AM I threw the towel in the ring! At that point I still had to use the oil wash and flat coat while I wanted to make exhaust and gun stains with pastels. No way I could finish that model and have some sleep before I had to show up to meet my friends from IPMS Region Midden of IPMS Netherlands. To be honest, I don't think it can be a contest winner because I did have to cut some corners in the building process. Luckily they don't show up in the pics! At least it's a big step forward on the speed-build VF-41 F-14A I did for our group build of CVW-8 last November. See Laurens Steffers' F-14A article elsewhere in the Gallery for more details. Or rather, don't….
By and large I'm happy with the model and that's what counts! I'm sorry for the graininess of the pics but that's because being Dutch I thought I could save some money on the film… I'll better myself next time! I hope you enjoyed it.
Erik Bosch