1/48 Hobbycraft Me 109G-2
| | |
| --- | --- |
| | Gallery Article by Thang Le |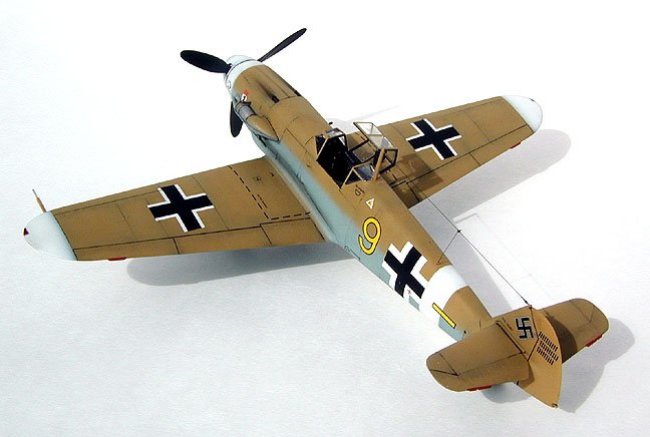 I just finished this Hobbycraft 1/48 Me 109G-2, I think. The box art said G-1/2 version, but who's cares? I built the Hobbycraft Me 109E-4 a few months back. It was a good kit, but the braces in the rear tail pushed the horizontal out of alignment. The tail ended up in a "V" instead of a straight "T", as it should. Since I was building it OOB, and relied on the Mfg. for the correctness, I didn't take time to correct it. The braces should be a little shorter to match up with the holes on both the fuselage and the tail sections. Oh well, it was the E-4. This kit doesn't have the same problem, so I'm home free.
I built it OOB, without the umbrella. I like the look of the desert scheme on this particular one. Don't ask me about the markings. I marked it as the way I liked it. I used decals from my left over sheet from Sky decals for the 109's. If you get technical and accuracy of this particular "Yellow-9"....bla, bla, bla. I just keep my mouth shut, since I made it up. I did try to be correct on the crosses by trimming off the black around them. Like our friend Rodney Williams said, " You building it for yourself, right?".
I used ModelMaster Enamels for the project. It called for RLM 78/79 and white wing tips and spinner. I pre-shaded the model with flat black before putting the main colors on. I didn't like the straight demarcation line between the RLM 78 and 79, so I free handed it with the soft demarcation as you see here. Oil washed the panel lines, and a touch of black pastel for the exhaust on the fuselage, and gun ports. It was a good presentation of the Me 109G-2 Trop. I like mine nice and clean. Enjoy the pictures.
Thang Le