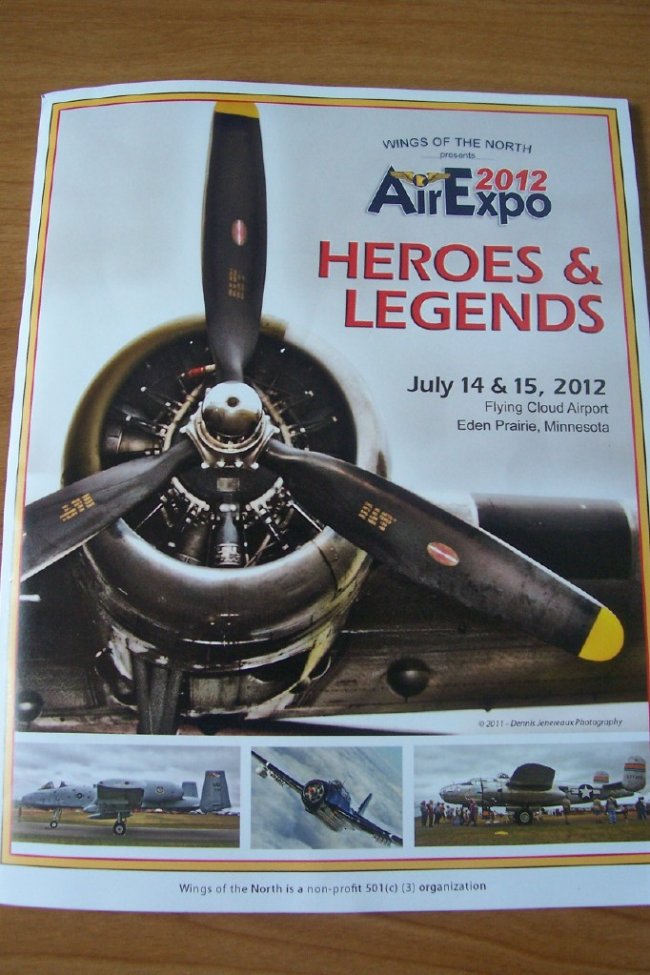 AirExpo 2012 was held July 14 & 15, was quite a hot weekend with temps on the field in the mid 90's both days. Things were a bit hot also Friday morning with the arrival of a MiG-21, crashing at the end of the runway. Its parachute deployed but did not open, the aircraft ripped through a chain link fence and ended up on Flying Cloud Drive, with collapsed left gear and nose gear, crumpled nose, bent wingtips and other bumps and bruises. The pilot was not injured. To view, copy and paste YouTube Link www.youtube.com/watch?v=1C2EQnyMmrg

I attended the Sunday session and had an opportunity to see many aircraft, fortunately I got there at 11AM as few aircraft left early to get home. The following photo's are of:
B17G – Yankee Lady

B-25J – Miss Mitchell

TMB-3E Avenger

T-6 / SNJ and Harvard MK IV

P-38J – Ruff Stuff

Stearman
I also had an opportunity to talk to a myriad of veterans that have served our country and those at one time of our enemy, including a talk by:
1. Elizabeth "Betty Wall" Strohfus of the WASP (Women's Air Force Service Pilots). She likely flew more types of aircraft than the average WWII pilot including B-17, B-26, AT-6, P39, and an F-16 in 1991. (picture with show announcer)

2. Gottfried Dulas German ace(5), JG-53, on the Russian front. Shot down in March of 1945 by ground fire, he was captured and spent 3 years in the Gulag. He is the only POW to write about this experience in these camps, he said to me that upon completion of his book "Another Bowl of Kapusta," his nightmares finally went away.(picture and autograph)

3. James J. Hill member of VMF-214 and squadron mate of Pappy Boyington.(Picture and autograph)

4. Gerald Gustafson F-105 Wild Weasel Pilot, F-86D, F-102 and F-106.(no picture got autograph)

5. Jerry Driscoll F-105 Pilot 112 missions, POW April 24, 1966 – February 12, 1973. (no picture got autograph)

6. The major attraction for me was the conversation I had with Brigadier General Dan Cherry, author of "My Enemy My Friend". His story and that of Lt. Nguyen Hong My, who he shot down in 1972.
Lt. Nguyen Hong My had shot down an RF-4C at near treetop level in January of 1972. Piloted by Major Bob Mock and Navigator Lt. John Stiles, both crew bailed out in Laos not far from the Vietnam border, but the chutes did not fully deploy at the low altitude. Fortunately the chutes caught in the trees preventing crew and seats from hitting the ground. Up to about 3 years ago no one could say who rescued them, then declassified, seated with them was Robert Noble Air America copter pilot(CIA) the rescuer.

On April 16th, the engagement took place with Major Dan Cherry and his WSO Capt. J.S. Feinstein. As the story plays out Lt. Hong My had the right wing of his MiG-21 blown off with a Sparrow, ejecting he broke both arms and incurred other injuries upon landing, Major Cherry got a good look at the pilot he shot down, as he passed within 100 feet at near supersonic speed. This was the only "kill" for Major Cherry and the first of five for Captain Feinstein, as he became one of the few aces in the Vietnam War. Fast forward to April 2008, in Ho Chi Minh City (Saigon), and the meeting of past enemies who will become friends.

You will now need to read the book "My Enemy My Friend" to know the full story. You can buy the book on Amazon or go to the website: www.myenemymyfriend. The book I purchased also included the following that signed at the table. They are listed in order from left to right in the picture:
A. Jeff Feinstein

B. John Stiles

C. Family(no signature)

D. Hong My

E. Robert Noble

F. Dan Cherry
I also brought my Osprey Combat Aircraft Series #55 "Phantom F-4 II MiG Killers 1972-73". Both Dan Cherry and Jeff Feinstein signed in the color plate section aircraft 3 their F-4D-31-MC 66-7550 13th TFS. Then a surprise as C B DeBellevue (Then Capt. six kill ace) sitting at the next table came over to see what Feinstein was signing. He then took may book and signed each color plate, #6, 11, 15 and 16 of the Phantom's(555th TFS) involved with his MiG kills. (See picture)

Lastly, Hong My signed the MiG-21 plate on page 32 of my Osprey Combat Series 29 "MiG-21 Units of the Vietnam War"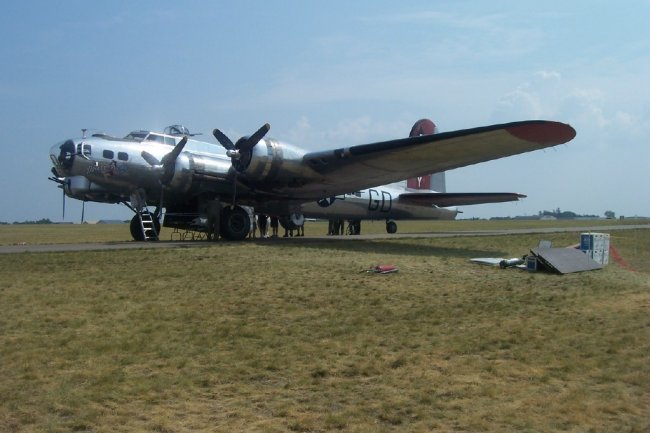 With gratitude and many thanks to the pilots, heroes and legends, support persons, Melanie Gustafson Show Director AirExpo 2012 and the Wings of the North organization for putting on a great show.

http://www.wotn.org/
Respectfully,
Mark L. Rossmann
Twin Cities Aero Historians Club
Click on images below to see larger images