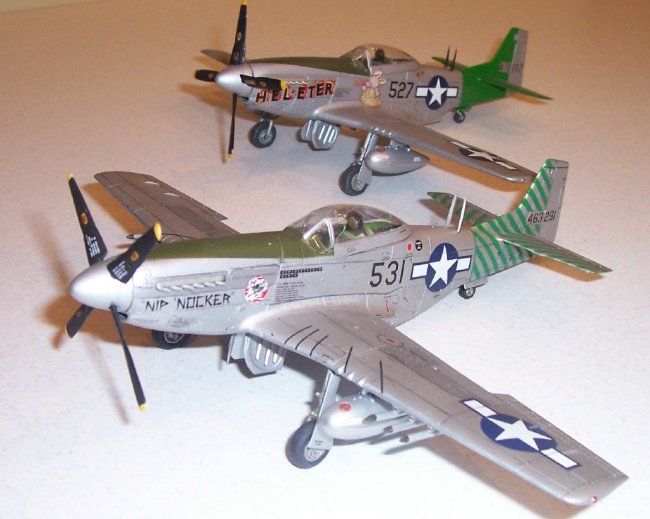 The "Sun Setters", were the VLR Mustang pilots of the 15th, 21st and 506th Fighter groups, VII Fighter Command based on Iwo Jima
The 506th FG was delivered by ship to Guam on March 17th 1945, a week later the unit flew to Tinian. 7 weeks of CAP and practice missions were flown while North Field on Iwo was prepared for their arrival. Finally on May 11, the FG landed at North, first combat missions didn't occur until May 18th.
Black Friday, June 1, occurred when a large weather front was entered by all 3 Fighter groups. As a result 27 planes and 24 pilots were lost, on that day's mission no plane was lost to fighters or ground fire. Headquarters lost Lt. Col. Harvey Scandrett and Capt. Edmund. The 457th lost the most pilots from the 506th FG; 1st Lt. James Best and 2nd Lt's Robert Kripple, Robert Griffith, Leonard Kloiber, William Saks. Lt. Lawrence Grennan 457th - bailed out at 5,000 ft. 10 miles from Iwo and was rescued.
In the end the 457th claimed 12 enemy aircraft shot down, with Capt Abner M. Aust as the only ace for the 457th FS and the 506th FG. On 16 July he was credited with three Ki-84's and two Zero's on 10 August. He remained in the Air Force flying 300 mission in F-4 Phantoms during Vietnam. Nine 457th pilots were to pay the ultimate price for the victory over Japan.
457th was commanded by: Maj. Malcom Waters 10/44 to 1/6/45 and Maj. Daun Anthony 2/6/45 to EOW.
457th FS P-51's were assigned numbers 500 to 549 and were painted with 4 inch green stripes on the rear fuselage vertical fins and stabilizer but not on the rudder or elevators. Planes began changing their identification scheme about mid-June as they went from striped tails to solid color tails, this in an effort to simplify the painting process and to have better identification of each fighter squadron. Some aircraft carried the unit badge on the rear of the cowling on the port side.
Here are two examples of the aircraft markings, stripes and solid.
"NIP 'NOCKER" (both sides), with an incomplete unit badge on port side. #531 was flown by 1 Lt. Wesley Murphy Jr., from airfield #3. He scored his only kill on 16 July shooting down a "Tojo" and damaging a "Zeke" over Nagoya. This is a Tamiya 1/48 P-51D, decals are from SuperScale sheet 48-1152.
"HEL-ETER (1st Lt. John W. Winnen, port side for his wife Helen and son Peter) / LIL – TODDIE (1st Lt. Phillip G. Alston starboard side after his daughter). #527 flew from airfield #3, as in most cases there were more pilots than planes. This was the late paint scheme with the solid green tail, #527 was lost in August while Alston was on leave in Hawaii. This is an ICM 1/48 P-51D, decals from AeroMaster sheet 48-795.
The twin UHF antennas were actually made out of wood. I fashioned mine out of flat end toothpicks.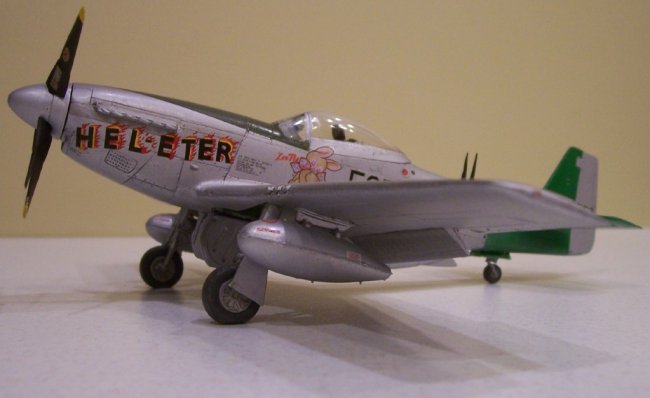 These are among the last USAAF Mustang units to be activated for combat. If you would like to know more about the VII Fighter command, the Banzai attack and the storm of June 1, you will enjoy reading the following:
References:
Decals:
Web Site:
Mark L. Rossmann