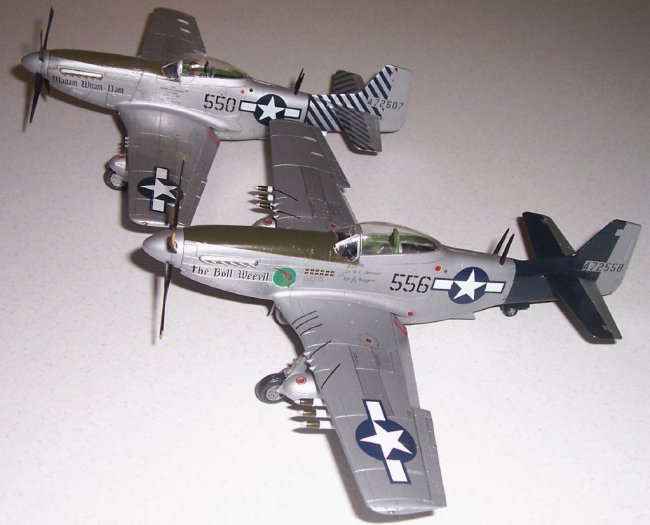 The "Sun Setters", were the VLR Mustang pilots of the 15th, 21st and 506th Fighter groups, VII Fighter Command based on Iwo Jima

The 506th FG was delivered by ship to Guam on March 17th 1945, a week later the unit flew to Tinian. 7 weeks of CAP and practice missions were flown while North Field on Iwo was prepared for their arrival. Finally on May 11, the 458th FG landed on Iwo. First combat missions didn't occur until May 18th, flying defensive CAP, unfortunately that day the first casualty occurred when F/O John Cream was killed in a plane crash.

Japanese territory was finally the target on May 22nd when eleven aircraft bombed Chichi Jima. Followed by The first VLR mission to Japan for the 458th, occurring on 28 May 1945, attacking the Kasumigaura Airdrome on the Island of Honshu. The 506th Group tallied 50 Japanese planes destroyed or damaged on the airbase, while having no losses.
Black Friday, June 1, occurred when a large weather front was entered by all 3 Fighter groups, 15th, 21st and 506th, which 59 Mustangs were from the 506th. As a result 27 planes and 24 pilots were lost, on that day's mission no plane was lost to fighters or ground fire. Headquarters lost Lt. Col. Harvey Scandrett and Capt. Edmund Crenshaw. The 458th lost the fewest of the 506th pilots; 2nd Lt. Thomas F. Kerrigan and 2nd Lt. Robert B. Harvey.

As a result of this loss of pilots, changes were made for future raids, specifically placing a single person in overall command of the airborne fighter groups and making sure a combat experienced "Sun Setter" was posted to the B-29 Weather Plane. It was found on that day's mission the assigned fighter pilot had no combat experience.

In the end the 458th claimed 22 enemy aircraft shot down, with no aces, the highest scores of 2 enemy aircraft a piece came from 1Lt. Evan S. Stuart, 2Lt. Frank H. Wheeler, Capt. Peter Nowick, 1Lt. Harold G. Davidson and Capt. Richard W. Barnes. The 458thth in total, for the 22 effective VLR missions from May 28th to August 14, lost 29 aircraft and 20 pilots.

458th was commanded by: Maj. Harrison Shipman 10/44 to EOW.

458th FS P-51's were assigned numbers 550 to 599 and were painted with 4 inch dark sea blue stripes on the rear fuselage vertical fins and stabilizer but not on the rudder or elevators. Replacement plane's, began about mid-June, having their tails as solid colors, this in an effort to simplify the painting process and to have better identification of each fighter squadron. Original aircraft of the 458th were reported to have retained their stripes.

Here are two examples of the aircraft markings, stripes and solid.

"Madam Wham-Dam" #550, was piloted by Maj. Shipman. However on the fateful "Black Friday" Lt. Col Scandrett deputy commander of the 506th was flying the plane and did not return. This is a Tamiya 1/48 P-51D, decals are from AeroMaster sheet 48-794.

"Boll Weevil" , "A Neat Package" #556, flown by 1Lt. Bennett C. Commer hailing from Mississippi, named his side "Boll Weevil" after the common pest back home. The second pilot, 2Lt. Harry J Seeger's, "A Neat Package", was complete with pin-up artwork along with 1 kill marking on the port side for his kill of a Japanese fighter on June 10th.. These pilots were assigned to "A" flight. This is a Tamiya 1/48 P-51D, decals are from AeroMaster sheet 48-794.

The twin UHF antennas were actually made out of wood. I fashioned mine out of flat end toothpicks.

These are among the last USAAF Mustang units to be activated for combat. If you would like to know more about the VII Fighter command, the Banzai attack and the storm of June 1, you will enjoy reading the following:

References:
Osprey Aviation Elite Units – Very Long Range Mustang Units of the Pacific War – Author: Carl Molesworth.

Decals:
AeroMaster 48-794 through 797,

Web Site:
506thfightergroup.org
Thank you,
Mark L. Rossmann