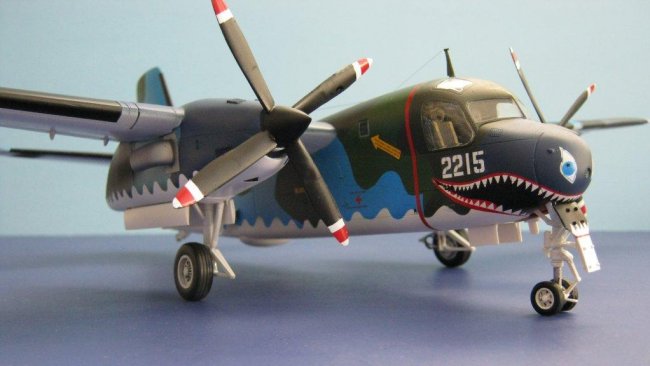 Grumman (turbine) Tracker of the Republic of China (Taiwan) Navy
I started this model after my last (turbine) Otter submission. This project (like that one) also stalled for a while (more than once) as I contemplated ditching it at sea, throwing it in the garbage, or feeding it to the cat...etc. With encouragement from modeler friends, I got back to work on it after a six month break. I made the rough shape of (one) engine by laminating slices of roughly pre-cut .080 evergreen sheet together, I shaped the piece with files then refined it with sand paper, using gradually finer grades. Once I had the shape I could call an engine I made a mold and cast it for the opposite side. I then attached and faired them into the wings. ( a lot of boring work here that will remain unsaid) I made my own spinners and propellers using the same basic methods. The remainder of the kit was built pretty much out of the box. I should mention the kit does go together quite nicely. Although, as you may note in one picture, the model does take quite a loadout of Pb to sit on it's nose wheel.
The model was painted using Tamiya acrylics and, Tamiya masking tape for the grunt work (all the sharp lines) I had good pictures of the shark mouth but no decals so, I painted the mouth and eyes on. I tried but failed to paint the serials, they beat me. I had one set of Caracal decals I had bought from Uncle Bills Models in Calgary Alberta, but I needed to put in an order to Caracal decals and ordered another set of "Trackers around the world" (I needed two number 2's for the serials, there is only one number 2 on each sheet). The Caracal decals worked wonderfully, as did the Kinetic stencil markings I used. I cut up a ST-F serial to change the F to a T. I now have enough left over Tracker decals to build a small fleet.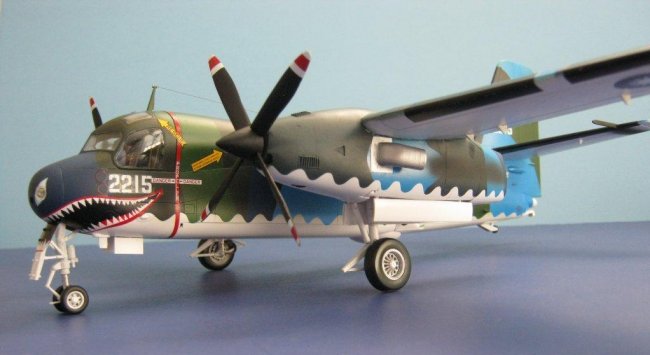 The model may not be strictly accurate but, to my eye...looks like a Taiwan navy turbine engine powered Tracker.
I hope you would agree.
Chris Parsons
Click on images below to see larger images