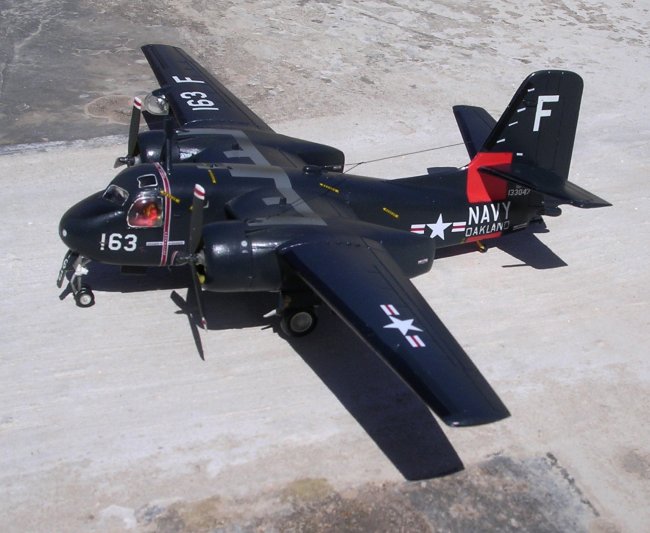 Tracker

History
The S2F2 Tracker was a shipboard anti-submarine warfare aircraft that was in service with the US Navy. It was the emerging result just like other aspects of military technology and operations that WWII forced the accelerated development both of submarine and of the aircraft and ships associated with Airborne Anti-Submarine Warfare. Land based bombers like the B-18 Bolo, PV-2 Hudson, were hastily modified and pressed into service as patrol bombers to supplant flying boats, fleet escort ships and airships. In the course of time more types and medium bombers were converted into ASW role such as the roles played by the PBY Catalina, B-24 and PB4Y-2 Privateer.

Avengers were credited with around 30 submarine kills during WWII but limitation in endurance, range and weapons load and sensors gave rise to new 2-aircraft hunter-killer operational concept to meet the then new Soviet threat. One of the aircraft carried long and short-range sensors to detect and localize a submarine and the other carried weapons and limited range sensors to attack it. Avenger TBM-3W was the hunter, TBM-3S was the task killer. From operating experience with the single-engine Grumman Avenger and the Grumman AF-2 Guardian which worked as "hunter killer" pairs for anti-submarine search and strike duties, the Grumman G-89 was evolved to combine both roles in a single aircraft.

The Grumman G-82 had tricycle landing gear, high wing, twin engine, 4-man crew and internal weapons bay that all proved advantageous over previous types. The new design combined hunter and killer function in a single compact airframe with strong emphasis of carrier suitability. Other advantages with the new design were the manner in which the wings folded which reduced wing span when parked on decks of carriers, full flaps permitted lower approach speeds, pneumatic de-icing boots on wings and tail plane leading edge, electrical anti icing of wind screen and props gave the S2F an all-weather capability.

First flown in December 4, 1952, the S2F1 went into production for the US Navy, which accepted initial deliveries in 1954. Of 755 S-2As built, over 100 were for export under Mutual Assistance Programme to Argentina, Brazil, Italy, Japan, the Netherlands, Taiwan, Thailand and Uruguay. Some are still serving with some of these countries. Later on Italy and the Netherlands received additional Canadian built CS-2F1 that had some differences.

There were 60 S2F2, which had differed in having enlarged bomb bay to accommodate homing torpedoes and have mostly been converted to US-2C utility aircraft. There was the S2F3 (S2D) and this had an 18-inch fuselage extension, a 35-inch greater wingspan, a wider cockpit and improved equipment.

S2F-1/S-2A was powered by two 1525 hp Wright R-1820-82 Cyclone radial engine giving a maximum speed of 240mph with up to 8 hours endurance.
The kit….S2F1 Tracker
Scale 1/72
Kit make and number: Revell, Kit No 04629-0389
Pavla Models resin set: C72056
Kit type: injection molded with two decal options.

In spite of its age the Revell kit remains an inspiration for 1/72-scale modellers looking for variants that one can build from it. At its time of release the Hasegawa kit was well ahead of other kits of its time in several respects. The Revell/Hasegawa model is injection moulded in grey plastic. There are two decal options, A US-Navy VS-24 squadron attached to USS Intrepid 1963, and a 320 Squadron Royal Netherland Naval Air Service, Valkenburg, 1974. Instructions are well illustrated with every of the 17 stages of construction. The kit can be assembled with a retracted undercarriage or with gear in lowered position and so is the option for the dustbin belly radome.

In order to enhance the model and make one of the early versions that was eventually relegated to a reserve squadron I have made best use of the Pavla Models detail resin set for S2F-1, which is C72056 along with a Blackburn Decal set.

Construction.
The model of the Tracker I choose to build was one from a Navy reserve squadron which was most likely a type that originated as one of the early Trackers and may even go back to 1954 when it was attached to VS-24 and deployed on board the USS Antietnam when it formed part of the task group in the Mediterranean in January 1955. Universally known as the Stoof by the US service crew, the kit required some modifications since it was an early version that differed from the later S2F that comes in the Revell box.

Like all Tracker models, the powerful searchlight on the leading edge of the starboard wing that permitted visual acquisition of surface subs at night is retained. A Pavla models resin detail set greatly enhanced the crew compartment and seating arrangement for all 4 crew members who are the pilot, co-pilot and two enlisted sensor operators. These are enclosed in a compartment complete with bulkhead, Instruments, a door leading to front office, radarscope, and steps to entrance door as well as the door itself located on the port fuselage side under the wing.

The resin detail parts are first cut, sanded to shape and are all assembled inside the Tracker fuselage after making certain cuts on the kit fuselage parts around the wing root area in order to permit fitting of the resin interior parts. Pavla kit instructions clearly depict the part of the kit needed to remove. The plastic was soft to cut with a razor saw and after cleaning; all the resin items fitted snugly and filled up all the interior forward compartments. Interiors were all light grey and the rest were painted as per Pavla kit instructions. Additional nose weight was added to any access areas to enable correct sit of the model on the nose gear.

The kit also required the aft portion of the engine nacelles to be modified, as these are smaller in height and faired into the trailing edge of the wings. The Revell kit had the parrot's beak type of nacelle rear and was modified accordingly by first sawing off the excess part and then rebuild and shape with Plasto filler. Although it was an early example it had clear panels in the pilot's overhead hatch upon studying the photo that I was referring to.

The roof bullet shaped radome was replaced with one of an early design. This consisted essentially of an inverted V shaped antenna with a vertical shorter pole fitted on top. Two semi-loop antennas were also added to tail fin upper and these were made from a thin piece of bent wires. Wireless was also added which stretched at top of fuselage from tail to mid fuselage. The exact length of wireless added was as shown in the reference photo. I noted that these varied from one S2F version to another. Finally detail to wheel wells was added since this area lacked interior structural and leg detail.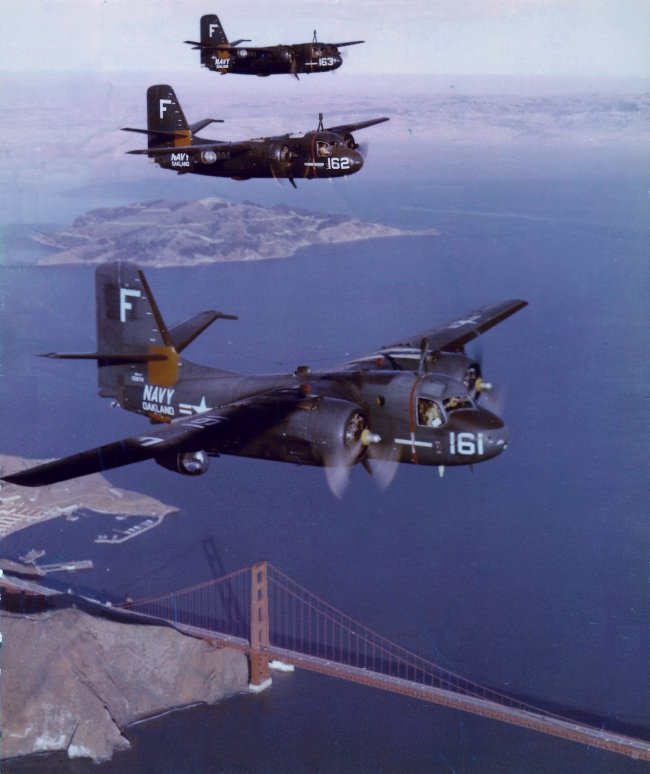 Painting and markings.
Insignia white Modelmaster brand was used for all wheel wells and leg detail. Some reference show this as light grey which could well be the case but I have seen them white after they changed from zinc chromate finish. Anti glare panel on nose was flat black. The leading edges for de-icing boots were also black. Propellers were black with red white tip stripes. Other than that the kit was overall sea blue with an orange 'reserve' band at rear of fuselage.

Most of the decals came from Blackburn Models.co.uk of Sheffield UK brand. The sheet is BMD72009 US Navy Blues PT2.These were slightly modified to suit the Tracker I was representing. Base title legend came from Superscale white letter sheet of correct size. Grey walkways over the fuselage and wings came from Revell kit decal. Johnson's Klear was applied before and after decal application and finally the kit was given a coat of semi gloss MM lacquer.

Conclusion
Although this Tracker is not the first, I have made have yet have added another dimension to my US Navy reserve section. The fascination to these colors could arise in view of the striking contrast that the sea blue makes with the orange reserve band. My reserve fleet now has a Neptune, a Bearcat, Hellcat, and Phantom FH1 and perhaps next time I will further extend the types with a Helldiver and a F9F8 Cougar.
Carmel J Attard
Click on images below to see larger images