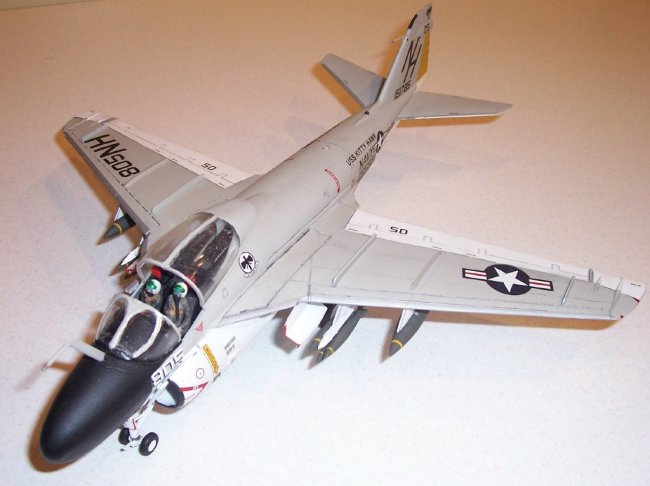 History:
Day and night attack capabilities for the U.S. Navy were enhanced as the Korean war provided the F4U-4 and F4U-5N versions and the AD-2 and AD-4N Skyraider. The Navy brought on line in the mid-50's increased night attack operations with the AD-5N, heavy attack with the A3D Skywarrior and light attack A4D, F9F-8B and FJ-4B aircraft. But the Navy was still missing a medium all weather attack type, with requirement OA-01504 initiated on May 15 of 1957, 13 companies began their work. With the likes of Martin, Douglas, Chance Vought, North American, Lockheed, Boeing and Bell, the A2F-1 design from Grumman was declared the winner.

Grumman's "flying drumstick" came out of the Calverton N.Y. factory on April 29, 1960. The "Ironwork's" a jet with a big front end for ground mapping and targeting radars, J52 turbojet engines, Litton's ASQ-61 DIANE system (Digital Integrated Attack Navigation Equipment). Medium attack was born, two seat "All weather", twin engine aircraft with a Naval Flight Officer (NFO) equal to that of the pilot. This 2nd crew member concept went back to WW-1 when an Naval Observation Officer (NAO). The 1960's brought other Navy / Marine aircraft with NFO's, the E-2, F-4 and A-5. As the Vietnam war progressed, the A-1 Skyraiders were retired, with ten of these units transitioning to the A-6A, VMA(AW) Marine units were created when six Skyhawk VMA squadrons were re-equipped.

On June 5, 1965 the CTF-77 arrived in theater with the new A-6A with radar and bombing "all weather" capability, with the U.S Air Force having nothing near that until the F-111A came on-line in 1968. The Intruder began with missions over Laos and North Vietnam on July 14th of "65", losing its first on this first mission with a "Sunday Puncher" crew being rescued in Laos after a MK 82 bomb exploded under the starboard wing.

The aircraft in this article flew from CVA-63, USS Kitty Hawk in 1965-66 operating CVW-11 with the VA-85 Black Falcons. Known as the "Buckeye's" they had previously flown A-1's. Buckeye's lost two A-6's in a mid-air collision while training over California, losing one crewman and both aircraft. The first casualties over North Vietnam occurred on a raid north of Haiphong, losing CO Cdr Billy Cartwright and B/N Lt. Ed Gold, the actual cause was never determined.
"Buckeye" 805 flown by CO Lt. Cdr. Ellis Austin and B/N were flying an "Iron Hand" mission on the night of April 21, 1966, near Vinh. There wingman was unable to commence his bombing run because of aircraft issues and saw an explosion on the ground. "Buckeye" 805 (BuNo 1515785) did not return, with the loss of both crew, becoming one of seven "Black Falcons" to be lost in Southeast Asia. Ellis was the second CO to be lost by this unit.

The Kitty Hawk returned to San Diego on June 13th, the unit lost 8 crewmen and CVW-11 lost 25 aircraft, 20 on missions. VA-85 would be deployed to Southeast Asia a total of 4 times.

Specifications:
Wingspan – 53 ft.

Length: 54 ft, 7 in.

Height: 15 ft, 7 in.

Weight: 26,350 lbs empty, 60,626 lbs gross

Max. Speed: 625 mph

Service Ceiling: 47,000 ft.
Markings:
Paint:

Gloss Gull Grey over Insignia White.

Two air wings experimented with camouflage (medium and dark green, tan and dark blue) one being unit VA-85
Modex:
Crew Names:
Interesting Note: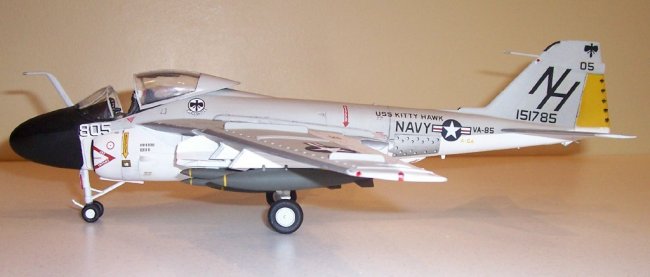 Model:
This is a very good representation of an A-6A, although upgrades would be helpful in making this much more detailed. I was provided this kit by Gary Anderson a fellow Twin Cities Aero Historian and recognize his Viet Nam service on the USS Independence, the first carrier to deploy the Intruders on its one and only cruise to Viet Nam in 1965.

References:
Testors / Fujimi instruction sheet.

Osprey Combat Aircraft #93 by Rick Morgan

Salamander's Combat Aircraft published by Chartwell Books Inc.
Thanks to Steve for his great site and providing readers a means to provide articles.

Respectfully,
Mark L. Rossmann