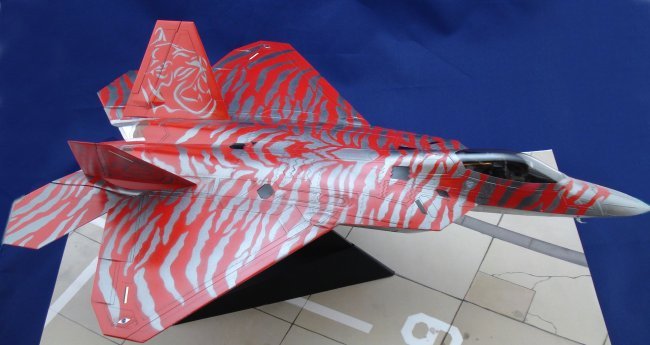 And now for something completely different!! My wife asked me to build her a model, her favourite aircraft, not a big deal, of course dear, the F22 it is.......in hot pink with tiger stripes!! OK!! Well I just couldn't get that hot pink she was looking for so we compromised on the "Hellboy" red instead.

The kit itself was the excellent 1/48 Hasegawa Idolmaster, which was originally a hottish kind of pink, but which required a certain degree of colour blindness to have successfully made without a hitch! Once the primer was on though it was a lot easier.
The tiger stripes were made with stencils and frisket film, as were the tiger heads on the tails. I used Vallejo paints throughout and had a nice sheen going on underneath with a mix of grey and silver, albeit have no pics of that, sorry! In certain lights and with or without flash the stripes seem to float over the aircraft.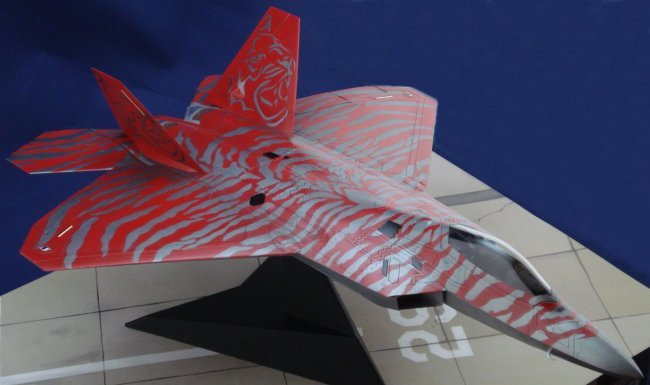 It was taken to the IPMS Doha yearly Tiger Meet, where other Tigers can be seen in backgrounds. Another fun build with a twist thrown in, just the way I like it. More "interesting" builds on the way!!
Enjoy!
CJ