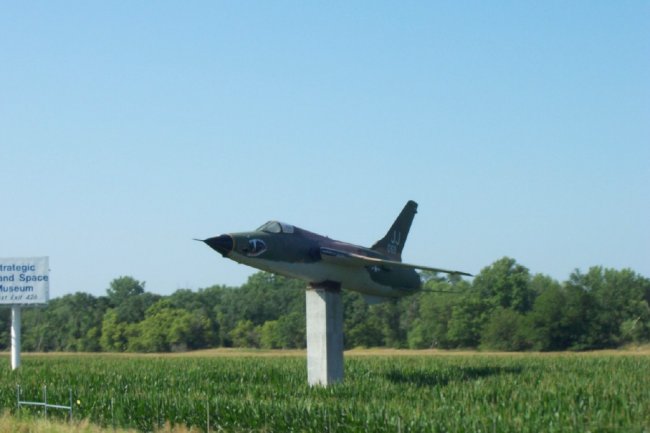 Above photo: Freeway
F105 – Thunderchief – Pole Sitter on I-80.
Initial deployment: Nov 1962 – assigned to 355th Tactical Fighter Command,
Final Deployment: Mar 1982 – 466th Tactical Fighter Squadron
I had an opportunity to visit the SAC Museum with my son and grandson this past summer, in Ashland Nebraska. It was the first stop on a road trip from Minneapolis, to Omaha out the Mormon, Oregon, California Trails and Pony Express route on US 30. We ended at Ft Sheridan Wyoming and came back home through the Black Hills of S.D.

The museum was established in 1959 at Offutt AFB, NE home of SAC from 1948 till its stand down in 1992. The museum was the vision of General Curtis Lemay and it used the end of an abandoned runway at its beginnings. In 1969 the museum came under the control of the State of Nebraska and in 1992 the Museum separated from the state to its own SAC Memorial Society. In 1996 the museum had its groundbreaking after a 33 million dollar capital campaign and 1997 the SR-71 was the first plane to move in. In 2001 the name was changed from the SAC Museum to The Strategic Air and Space Museum.

I'll let you go out the website for further information. http://www.sasmuseum.com/

This first part will cover the entrance, Hanger 1 and the Restoration Hanger.
Outside Walkway - Front Walkway
Rockets also on display
Chance Vought Blue Scout Missile. First solid fuel launch vehicle, 500 mile orbit.

Northrop SM – 62 Snark nuclear warhead capable. Fired from mobile launcher, programmed flight of 1500 to 5500 nautical miles.
Entrance
Photo 5 & 6: SR-71A Blackbird (placed there and building built around it) and memorial

ID: May 1966. Notable mission abort from Beal AFB CA. August 1981, landing at Bodo Norway.

Aircraft then stayed in Europe covering the Polish Solidarity Movement, flying out of RAF

Mildenhall until Nov 1981, then returning to Beale.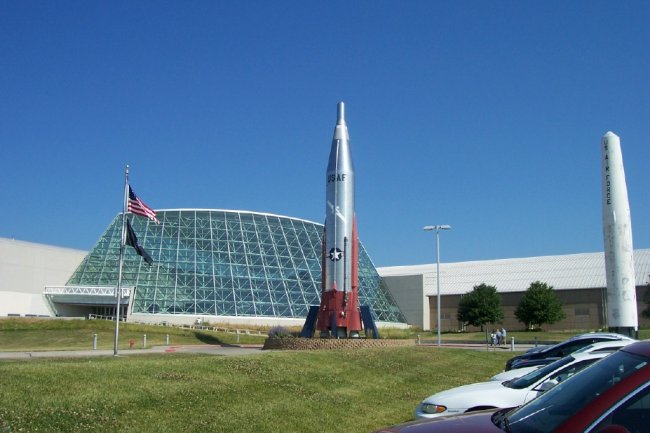 Above Photo: Outside Walkway - Front Walkway - Convair SM-65 Atlas ICBM Missile, range 6500 miles.
Hanger #1
Photo 8 & 9:
Hanger #1: Center- Boeing KC-97G Stratotanker.
ID: Delivered to USAF Apr 1955 (no other info)
FD: Dropped from USAF inventory 1964
To refuel Jet aircraft, it "tobogganed", when connected high up, the taker and bomber flew downhill picking up speed. Look closely in photo 8 and you can see the KC-97G Fueling Boom.
Photo 8:
Photo 10:
Ceiling – Piasecki CH-21B Workhorse first flown March 1945, winterization features allowed it to operate to -65 F.
ID: Jan, 1958 Assigned to 551 AEW&C Wing Otis AFB Mass.
FD: Dec 1965 4756 FMS, Tyndall AFB FL.
Photo 11 & 12:
C-119G – Flying Boxcar Tail and Cargo Bay
ID: Jan 1953 316th Troop Carrier Group (Tactical Air Command), Stewart AFB.
FD: 4410th Combat Crew training Wing (TAC), Lockbourne AFB, OH.
Photo 13:
Sikorsky H-19B Whirlwind or Chickasaw
1951 Initial trials in Korea as tactical control missions, aircrew rescue, medical evacuation cargo, clandestine operations.
ID: Aug 1954 310 Troop Carrier Squadron, Pope AFB, NC
FD: July 1966 43rd Bomb Group, Little Rock, Ar. 
Photo 14 & 15:
C-47A Skytrain
ID: Jul 1944Troop Carrier Command, Baer AAF, In.
FD: Nov 1966 21st composite Wing, Elmendorf AFB, AK. 
Photo 16 -20:
B-29A Superfortress
ID: Aug 1945 Walker AFB, Victoria, Ks.
FD: Jul 1959 3902 Air Base Wing, Offutt AFB, Ne.

Photo 16: Port Front

Photo 17: Looking in the nose

Photo 18: Full view

Photo 19: Front view bomb bay

Photo 20: Rear view bomb bay 
Photo 21:
Photo 22:
End of Part 1
Regards and happy modeling,
Mark L. Rossmann