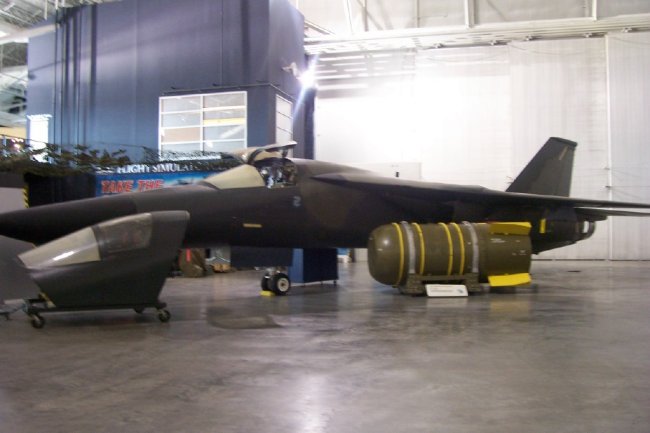 Above Photo FB-111A Aardvark
Initial deployment: Nov 1970, 340th Bomb Group, Carswell AFB, TX.

Final Deployment: Mar 1988, 380th Bomb Wing, Plattsburgh AFB, NY. One of the last four to leave the base ending the career of this type with SAC.
Part 2 – Strategic Air and Space Museum, Ashland Nebraska, Summer 2013.

This second part will cover the Hanger 2 and back yard.
Note: that many aircraft are scrunched together as you will see by some of the following aircraft.
Photo 3: RF-4C Phantom Recon
ID: Aug 1966, 67th Tactical Recon Win (TAC), Mountain Home AFB, ID.
FD: Mar 1972, 155th (ANG), Lincoln, NB
Photos 4 & 5: B-58A Hustler
ID: Accepted USAF Feb 1962

FD: To museum in 1968.

This is only 1 of 6 remaining B-58's. This aircraft, "Greased Lightening", set a speed record from Tokyo to London on Oct 16, 1963. 8028 miles with an average speed of 938 mph, taking 8 hrs 35 min and 20.4 seconds. A second speed record from Tokyo to Anchorage of 3 hrs 9 min and 41.8 seconds averaging 1098 mph.

The pod underneath carried nuclear bomb and extra fuel tanks.
Photo 6: HU-16B Albatross
ID: Sept 1951, 2nd Rescue Squadron (FEAF), Clark AFB, Philippines

FD: Feb 1962, 95th Strategic Wing (SAC) Goode Bay, Newfoundland.

This was a Navy ordered SAW aircraft, but dropped its requirement. The Air Force actually took delivery of these aircraft first using them for Search And Rescue.
Insert text here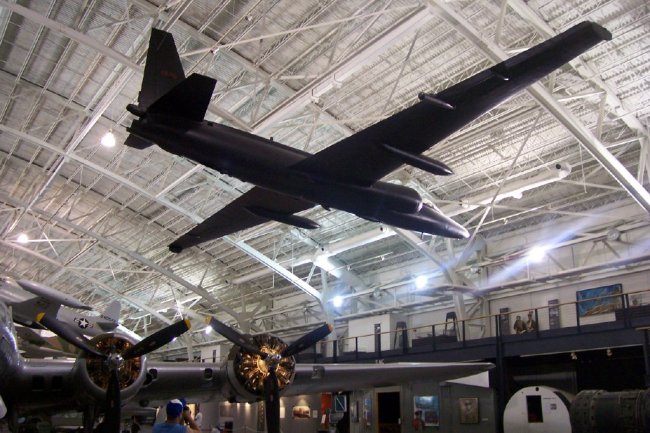 Above Photo U-2 Dragon Lady
Photos 7, 8 & 9: B-36J Peacemaker (This is a huge aircraft, bigger than B-52)
ID: Dec 1953, 7th Bombardment Wing (SAC), Carswell AFB, TX.

FD: Aug 1956, 95th Bombardment Wing (SAC), Biggs AFB, TX.

Known as the "Magnesium Monster" by its pilots, it was the largest production aircraft ever built.

These aircraft never dropped a bomb in a wartime situation., with the B-47 and B-52's on-line these aircraft were withdrawn from service in 1959. You want to see one of these aircraft fly, watch the movie "Strategic Air Command" starring James Stewart.
Photo 10: B-57E Intruder (sorry a tad blurry)
ID: Sept 1956, AF operational Proving Ground, Elgin AFB, FL

FD: Nov 1968, Armament Development and Test Center, Elgin AFB, FL

403 were built, Argentina used them during the Falklands war.
Photo 11: B-47E Stratojet
ID: May 1955, 301st Bombardment Wing (SAC), Barksdale AFB, LA.

FD: Mar 1964, 3902 Air Base Wing (SAC), Offutt AFB, NE

First swept wing jet propelled bomber. Carry 10,000 lbs bombs or nuclear weapon.
Photo 12: B-25N Mitchell
ID: Jan 1945, Mobile Air Technical Service Center, Brookley AAF, AL

FD: Mar 1956, McConnell AFB, KS

This aircraft has been modified by the museum to represent a B-25 used by the "Doolittle Raiders".
Photo 13: F-101B Voodoo
ID: Dec 1960, 3204 M & S Group, Elgin AFB, FL

FD: Jul 1970, Wright Patterson AFB, OH

At the time of Air Force Acceptance, the F-101 was the heaviest single seat fighter ever accepted.
Photo 14: A-26B Invader
ID: Mar 1946, 2537 AAF Base Unit (ATC), Perrin AAF, TX.

FD: Aug 1957, HQ ANG, Dobbins AFB, GA

The A-26, redesignated B-26, fought in 3 wars: WWII, Korea and Vietnam.
Photo 15: F-84F Thunderstreak
ID: Jan 1955, 366 Fighter-Bomber Wing (TAC) England AFB, LA

FD: Apr 1964, 122 Tactical Fighter Group (ANG), Baer Field, Ft. Wayne, IN

SAC maintained Fighter units till July 1, 1957, when they were either inactivated or reassigned to TAC.
Photo 16: F-86H Sabre
ID: May 1955, 3595 Combat Crew training, Nellis AFB, NV

FD: 104 Fighter Interceptor Squadron, Baltimore, MD

473 "H" units were built out of a total of 6,353 Sabre Jets
Photo 17: T-33A T-Bird
Dropped from inventory on Dec 1972 and delivered to Museum.

T-33 was two(2) seater aircraft the mainstay of the Air Force fighter training school for over 30 years. An RT-33A recon version was created and used by many foreign.
Photo 18: B-17G Flying Fortress
ID: April 1945, Walker AAF, Victoria, KS

FD: Sep 1953, 3205 Drone Group, Holloman AFB, NM

Did not see any combat
Photo 19: B-1A Lancer
ID: 4th B-1A built, flown in Feb 1979. Primarily used as avionics test bed for B-1B program. Originally donated to the AF Museum at Wright-Patterson AFB in Dec 1988. Was disassembled and trucked to the current location in Oct 2003. One of two currently in existence. Because wings are displayed in swept-back position. Thousands of pounds of weights are in bomb bay and crew department to center the gravity.
Photo 20: Avro Hawker Vulcan (S/N XM573 101st aircraft produced delivered Mar 1963)
Photo 21: T-29A Flying Classroom. (Militarized version of the Convair 580 Convair-Liner.)
ID: Delivered Jul 1951

FD: Jul 1973, Offutt AFB, NE

USAF required an effective training aircraft for navigation training. This T-29A, through generous gifts, is retrofitted for use in the youth education and outreach programs.
Photo 22: EC-135 Looking Glass
ID: Oct 1964, 499 Air Refueling Wing (SAC), Westover AFB, Mass.

FD: Jul 1990, 55th Strategic Recon Wing (SAC), Offutt AFB, NE.

With General John T. Chain Jr. on board, this aircraft flew the last continuous Looking Glass Mission July of 1990. 29 continuous years of airborne service, this mission now began pulling ground alert.
Photo 23: Birds eye view of Hanger #2

I hope this has given you a taste of the museum. So much more to see and read about that I could not include here. Hopefully sometime in your future you will consider visiting this wonderful museum of historic aircraft and memorabilia. This is well worth the time and miles to see.

Regards and happy modeling,
Mark L. Rossmann