History:
As WWII ended the colonial powers shifted their priorities to retaining territory before the war. Japanese Army and Air Force staff remained in many places as allied governments moved to reclaim their former empires, but was slow to occur as post WWII was reeling to recover from this world wide catastrophe. The Potsdam conference had divided Indochina along the 16th parallel, with Nationalist Chinese in charge of the north and the British in the south. Under General Gracey's 1600 man force the 60,000 man Japanese garrison took orders to maintain peace. Even the Japanese Air Force got into the act by flying over 100,000 miles and carrying over 45,000 pounds of supplies. On September 22nd, 1945 Gracey's men started to release 1700 very angry French troops locked up since March of "45" by the Japanese. Finally French General LeClerc arrived on October 5th with a vanguard of 1000 soldiers that was soon to number 25,000. In early 1946 after French success against the Viet Minh, the Japanese were beginning to be sent home.

The air war over French Indochina represents a very interesting and unique period of modern history. A war fought with obsolete weapons, against an enemy without a single aircraft, a situation unheard of in modern times. It was a war that paralleled the long struggle that was to occur for 30 years with French and U.S. involvement. There was extraordinary variety of aircraft that served in the conflict. From seized Japanese Oscars, Jakes and a Rufe, through French-built Ju-52's acting as bombers. British Spitfires, Mosquito's and U.S. KingCobra, C-47's, Invaders; Hellcats on through to Bearcats, the French war effort in the air had a truly broad spectrum of aircraft.

There is little on the subject, Spitfire IXs were a mixed bag of features; C and E wings, clipped and standard wing tips, rounded and pointed rudders.

The first Spitfires operated by the French in Indochina were Mk VIIIs. Transferred from 273 squadron RAF when that squadron re-equipped with the Mk 14. The Mk VIIIs were well-used when received, some fired shots in anger in British hands while engaged in occupation duties. Most common mark of Spitfire in French hands was the Mk IX.

A total of nine Armee de l'Air squadrons flew the Spitfire in Indochina from 1945 until 1951. GC II/7 Nice was established in November 1945 with ex-RAF Mk. VIIIs, though these did not last beyond early 1946, being replaced by the Mk IX and LF Mk. IX shipped from France. Most if not all seemed to be the LF IX, equipped with the low-altitude optimized Merlin 66 engine (note that the LF designation only refers to the engine, and LF aircraft could have either standard or clipped wingtips).
The last French unit to operate the Spitfire in Indochina was GC I/6 Corse from April 1950 until 1951, when they were replaced by F6F Hellcats. Of the 12 aircraft still remaining, 6 were scrapped, and the best 6 were returned to France.

The aircraft in this article is from GC II/4 La Fayette in mid-1947, stationed at Gia Lam. Spits wore standard RAF colors, this aircraft having the broad cord rudder and clipped wings.

The Model:
This is a ICM Spitfire LF Mk .IX which is one of the better Spitfire models available. I used the Tamiya AS spray paints cans AS-9 RAF Dark Green, AS-10 RAF Ocean Grey and AS-11 RAF Medium Sea Grey. Decals are from Berna Decals, Spitfire LF Mk. IX (BD 48-18) out of France, which contains decals for 3 Spits, but roundels for one aircraft. Cost was about $18.00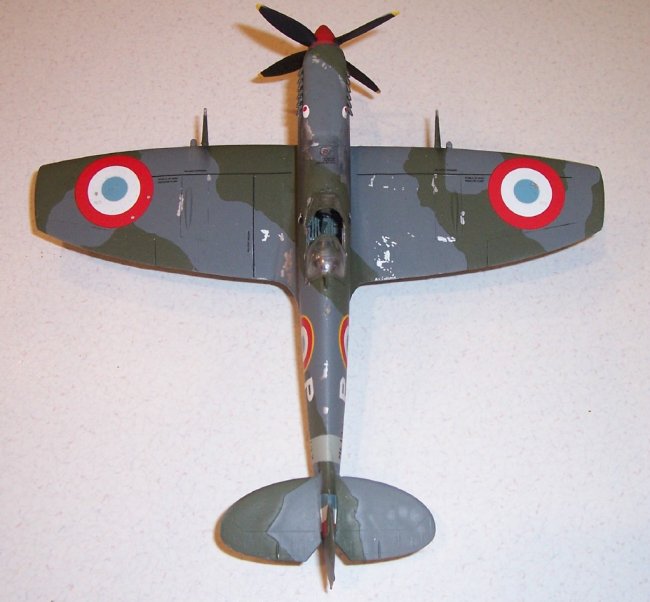 The model builds up quite well, if you don't plan to have an open engine compartment, you need only finish what you need to attach the prop and no need to paint. Only issue was a bit of a fit of the engine cowling and a ever so slight warp of the port wing.

Overall am satisfied with the turnout of the model.
Mark L. Rossmann