Hi everyone, I'm a Portuguese modeler, this is my first model on ARC and was actually my first attempt at a "what-if" when I got back into the hobby in late 2013. The base kit is the 1/72 Revell F-16MLU and was finished about a year ago, it's my take on a modernized F-16. If you are interested in the build thread and backstory, it's here: http://www.whatifmodellers.com/index.php/topic,39268.msg649051.html#msg649051.

It was a long one, took me over 2 years to get it finished. Aftermarket was in form of the Aires F-22 nozzle set, the second tail from the Italeri F-16C/D kit, an old CD case for the wings and old credit card for the horizontal stabs. Extra missiles and dual-rail launchers from the Hasegawa US air to air missiles set.

The idea began with my interest on how a twin tail Viper would look like, then evolved when I found a profile of an F-16 with F-22 wings, but after that, I found out about the DSI (Diverterless Supersonic Inlet) test bird. I liked it so much that I wanted that intake on this model but, at the time there were no conversion sets for this and my skills were very limited, as were the materials to scratch-build anything. Undaunted, I chose to sculpt it all... out of Tamiya's gray putty. Then came the 2D nozzle, when I was researching about the LOAN program and, that made me order the Aires set and got me started on this project. The idea for new landing gear and gear bays came when reading about the rejection of the Viper by the US navy.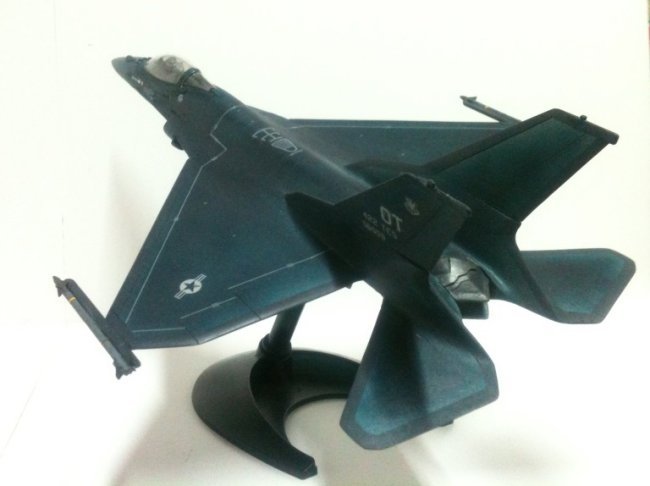 As you probably guessed, the wings didn't work with putty...But I did manage to get the intake all sanded down smooth and that was the turning point in the build that prevented me from throwing it into the garbage bin after I dropped it a couple of times and ruined the wings... I then looked around the house for something useful and decided to build them from an old plastic CD case, and the horizontal stabs from an old credit card.

As I wanted a modern looking Viper, I mixed up Tamiya's XF-56 with X-13 just to see how it looked and I liked it, so after that, I added some more Raptor influence and painted the dark grey strips on the edges of the control surfaces with XF-66.

I was very happy with how it came out, and I've got plans for a proper 1/48th version, with wheels down and probably, with CFTs and a few other changes, but with much less putty involved. ;)

Cheers!
Zen