I stumbled upon an after market decal sheet, issued by Fightertown, that I had purchased a number of years ago. It grabbed my attention to the point where I had to get my hands on a 1/48 F-4 Phantom II kit of suitable stock to be able to utilize the decals on a completed build. The decal sheet depicted a QF-4S, a reconditioned earlier variant of the Phantom to make a drone aircraft that flew with the VX-30 unit in 2004.

I then had to work backward with Phantom II variants, for the QF-4S had been a F-4S in its early life. Ah, but I read where an F-4S was an updated, refurbished and slatted F-4J (cf: McDonnell F-4 Phantom, Spirit in the Skies, by Jon Lake, ed., World Air Power Journal, 1992). Couldn't stop here, though, as I further read that a F-4J was a follow-on to an original F-4B. The 'B' model was the rosetta stone: I rifled through my stash of kits and found my last (long out of release) Hasegawa F-4B/N kit, which I used for modification for my drone -4S variant.

Hasegawa kits have set the modeling kit standard for decades, and rightfully so. Except for one gnawing detail: the cockpit seats. They're all so spartan, begging to be decked out with seatbelt and ejection handle details. Life is a bit too short for this labor of love, so I bought and used True Details after market Martin-Baker election seats. All I had to supply was the paints.

I only used one other after market litem, besides the seats and decals: the intake covers. Steel Beach makes a line of these beauties; they fit like a glove. Using intake covers also makes the finished model more representative of the real aircraft, which was protected from FOD upon turning off the engines.

As for the build, I split my attention between the cockpit parts and the rear fuselage assembly: Hasegawa molded the Phantom kit to allow these two mentioned sections of the aircraft to be joined together, instead of one sub-section having to be built before another one could be started, etc. While admirable, I've never had a perfect alignment between sections: I always needed a bit of putty and/or filing and sanding with oxide cloth to blend in the joint lines. To me, it depends where one wants the touch-up to be executed: at the outer intakes, or the ventral fuselage joint. I prefer to rework the underside, as it's less noticeable, and one can add an excess of weathering/ streaking, as numerous photos show the Phantom being nearly a filthy mess when looking at the belly of the plane, from oil streaks and chipped paint from ground debris being kicked up and contacting the plane.

After assembly, I used a black wash to add weathering to recessed panel lines and surface details. I used my standard Testor enamel Model Master paints, leaving enough of the black wash smudging to simulate normal wear. From photos examined, the drone aircraft were fairly well reconditioned before revamping to drone specs, removing the worst worn areas and components. I used black-and-brown pastels to accent selected areas, particularly the engine exhaust plates.

I had one unsettled aspect with painting: I couldn't tell from numerous colored photos whether the periphery areas (e.g. wing tips, vertical fin, stabilator, nose cone) were red or orange. To split the difference, I mixed a small amount of white to my red paint to get a slightly off-red color.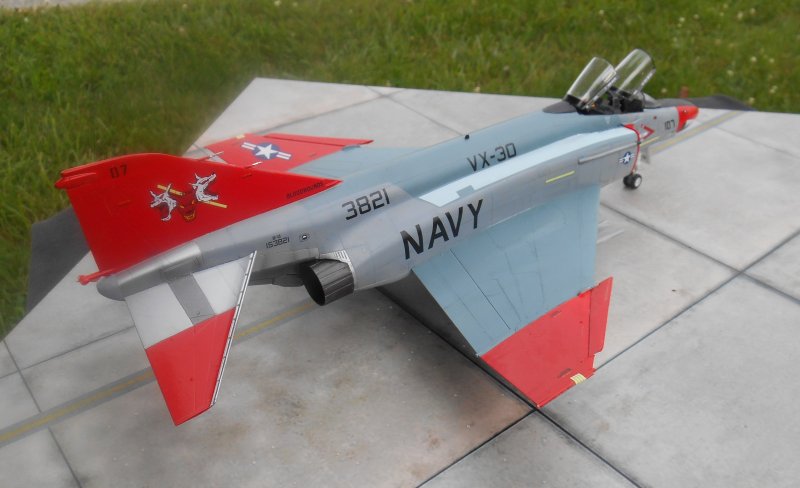 The Fightertown decals were crisp and colorful, but I only had one reservation about them: they practically came off the backing sheet almost immediately after immersing in warm water. You'd better not walk away from any decal stencil cutout, lest you resign yourself to picking out a floating piece of thin film that will wrap itself up after leaving the water. Also, regarding the shark mouth decal, lancing with curved piece will greatly aid its flush seating on the nose. Use MicroSol for insurance; I applied two coats before I was satisfied.

I sealed the finished model with a semi-gloss coat, masking the high gloss canopies first. I wanted to represent a newly reconditioned drone with minimal flight hours. It seems like even a high gloss coating will lose its luster in no time at all, from the air and dirt particles hitting the aircraft.

A final note: One of my attached photos show small raised blobs on the fuselage. After pondering what went wrong, it occurred to me that I took the photo outdoors when a light mist blew over head, from the only cloud in the sky at the time. I barely felt a drop, as I was under a tree. By the time I figured out what the blobs were, they had evaporated on the model. Note to myself: Never take another outdoor picture of a model submission unless there's a cloudless sky!
Carl Jarosz