There has been numerous release of the F-20A Tigershark kits in the 1/48 scale. I noticed that quite a number of them featured "What-if" markings other than those of the prototypes. Intrigued, I did some research on the F-20A and realised that it failed to make any sales despite its improved performance over the F-5Es, losing out to the F-16 which the USAF chose and was followed later by several operators of the F-5Es. First prototype 82-0062 was painted with RSAF markings and offered for evaluation but it fell through as the F-16 was selected instead.

I was glad that I was able to get hold of a 1/144 Mini Hobby kit from the local hobby shop. I had initially wanted to build it as the prototype 82-0062 in RSAF markings but my curiosity to build a"What -if" took hold.

As expected, the kit construction is pretty simple but it came with good choice of external stores - 2 x Sidewinders, 2 x AGM 65 Maverick, 2 x Mk 82 bombs, centreline drop tank and GPU 5/A gun pod. Decals were simple with markings for second prototype with registration N3986B. However, the F-20/Tigershark letterings were in yellow instead of white.

The instruction sheet was printed on the back of the box and was pretty small (had to use a magnifier to really see). The one glaring flaw was the canopy. It appeared incorrect - much longer than desired and it was very thick. However, the thickness turned out to be a blessing in disguise. It allowed me to trim it to length using the Hasegawa tool. The only onerous task is the thinning down of the canopy by sanding. That took quite a number of manhours to complete though.

The major issue faced in building the kit is it requires an awful lot of filling with putty and plastic strips and sanding in many areas to get it to resemble a one-piece build. This is probably what one would expect given that this kit is priced pretty cheap as compared to the newer Trumpeter kits. I then added scratch-built external parts e.g. the RWRs, UHF blade antennas, AOAs and the main pitot tube. And of course the pilot figure and seat for in flight display.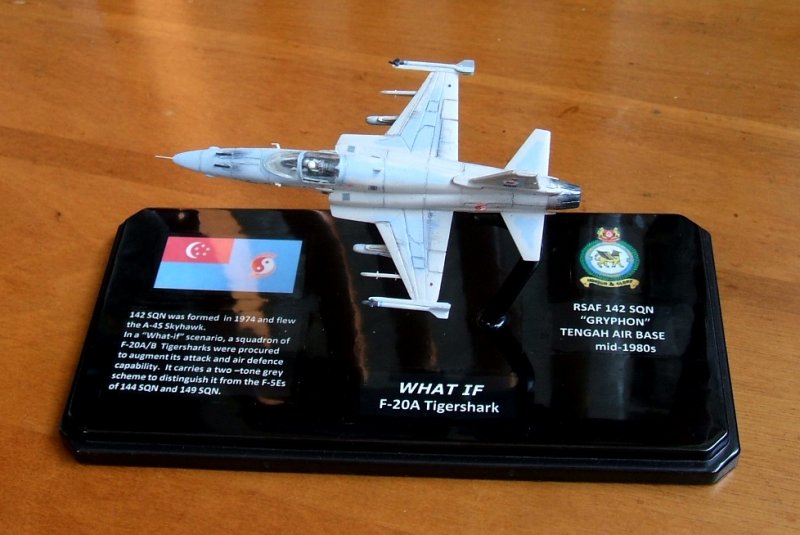 As for the "What-if" markings, In decided to create the markings for the RSAF 142 SQN "Gryphon" sometime in the mid-80s. This squadron was operating the A-4S Skyhawk, a refurbished ex-US Navy A-4Bs and Cs since its inception in 1974 . I kind of like the Gryphon emblems. I thought the F-20A improved capability could augment the Squadron's role in attack and CAS role seamlessly.

As for the colour scheme, I decided on a two-tone Mod Eagle scheme to differentiate it from the F-5Es of 144 SQN. I used Tamiya acrylic basic colours to mix to for the two colours. Two thinned coats of Future were brushed on prior to application of decals after 1 day of curing in between coats. Another two thinned coats of Future were brushed on to smoothen out the decals. Finally two thinned coats of Tamiya flat base/Future mix were airbrushed on.

I was rather pleased that it turned out quite well. Enjoy the photos.
S K Loh