The PZL- Kruk (English: Raven) is a Polish agricultural aircraft designed and built by WSK PZL Warszawa- Okęcie. The first prototype was powered by Lycoming IO-720 flat-eight-cylinder engine but finally it was fitted with a 441 kW (600 hp) PZL-3S radial engine. The prototype with the final engine took off for the first time on 25 October 1974. Main user of the PZL-106 was the Polish civilian aviation. PZL-106A and Bs were exported to East Germany (major non-Polish user – 54), Czechoslovakia, Egypt, Hungary, Argentina, Brazil and Ecuador. Some turbo-prop versions were sold to Egypt, Ecuador, Argentina and Brazil. The PZL 106BT-34 is still flying in Argentina.

This model was built from scratch by famous polish modeller Henryk Hemke, and was restored and rebuilt by me. This is how it looked at the beginning.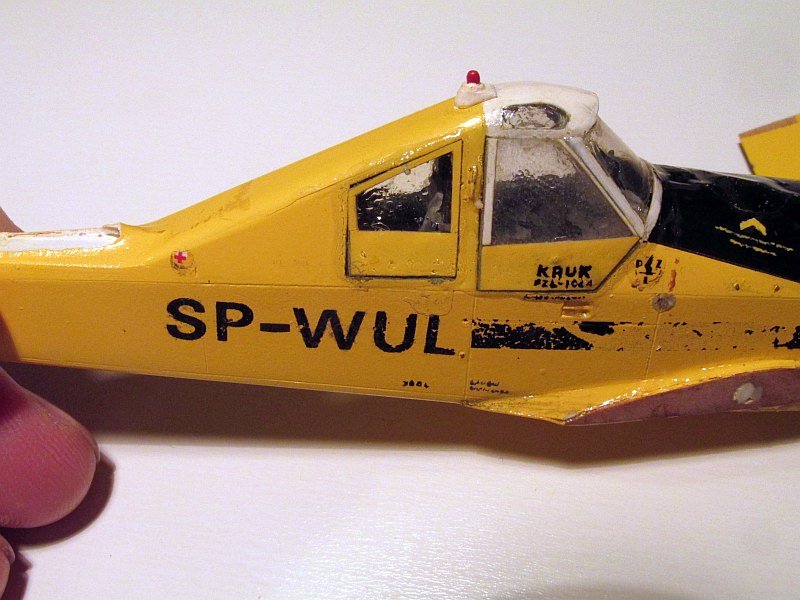 I wanted to get the effect of a relatively new plane, which, however, did a lot of work, stationed at the landing pad, in the sun and rain, hence the different painting of the bottom and top of the model. Darker areas around the registration number, it's not a badly applied decal, but the effect spotted on a real plane. Please enjoy!
Piotr Dmitruk
Click on images below to see larger images