The Saab 29 Tunnan (barrel) was the second jet fighter to enter service with the Swedish Flygvapnet. It followed on from the Saab 21R, which was actually a jet-powered development of a piston-engined design. In common with other jet aircraft developed in the late 1940`s, it was originally designed with a straight wing. However, by the time the prototype was in development, captured German research information was available and this convinced the Swedes to adopt a swept wing configuration instead. The Tunnan was powered by a license built version of the De Havilland Ghost engine used in the British Venom fighter bomber and Comet airliner.

Despite its ungainly appearance, the Tunnan enjoyed a reputation as a fast, agile aircraft with good all-round visibility. As a fighter, it equipped both the Swedish and Austrian air forces and saw combat during UN peacekeeping operations in the Republic of Congo in the 1960s. A total of 661 examples were produced, making it the most widely produced Saab aircraft in history.

The Saab Tunnan has been kitted a couple of times before in this scale by Heller and Matchbox.

The Heller kit has about 35 lighter grey parts and 5 clear parts and yes, it`s really an oldie. It depicts a J29F with the outboard wing leading edge extension and wing fences. Also there is a nose choice to make a reconnaissance S29C with a separate lower nose section.

The kit looks pretty good on the sprue, and although it lacks the spit and polish of newer actual kits.

The kit length and wing span look OK and the wing type is the later final wing. The panel lines are not recessed but finely raised. The cockpit is a tub with a reasonable typical J29 ejection seat. Two underwing tanks and pylons are provided and the gear bays can be set open.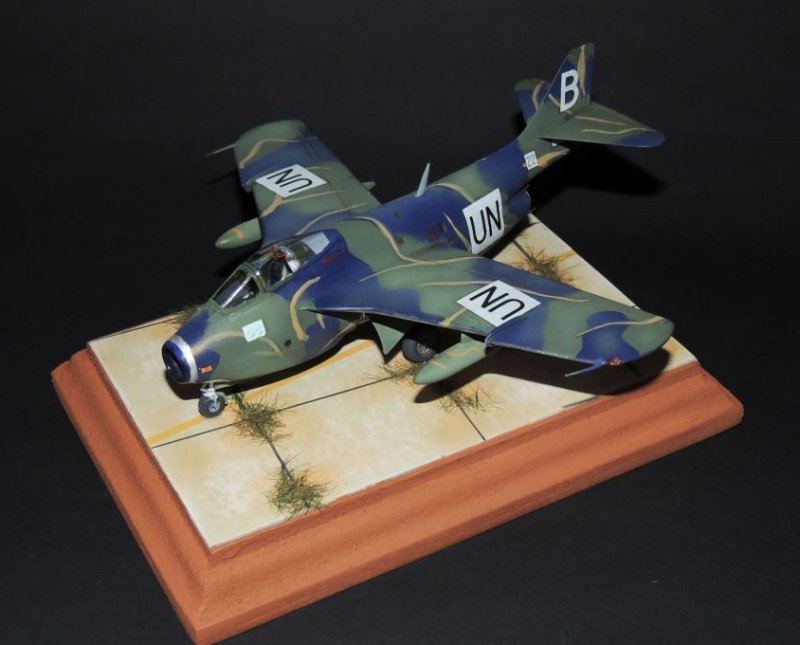 You Decals in the Heller kit are for 2 versions:
Swedish Air Force J-29E at unit F-4 at Ostersund ;

Swedish Air Force S29C as used by Swedish AF deployed for a United Nations mission 1961 at Katanga/ Congo. This is the Version I built.
The kit decals are simple but not too bad as very limited stenciling looks applicable for the J29. The build was pretty easy. I needed a little bit of internet research, because the camouflage for the Congo aircraft is incorrect, but I found pictures and information in a "Flieger Revue Extra" article about the Congo War. Painted with mixed Revel Aqua Color to match the green and blue color. I`m not quite sure, if the strips are green-yellow or light brown.

If you want more detail, several aftermarket parts also were released for this kit.
Gerd Wilcken