After having built single kits for a while I felt it was time for a diorama with a collection of different kits. I have been interested in the Russian air force having been supplied with a number of British and American aircraft during World War II so decided that that would be an interesting subject. It also meant I had to find the kits that I needed to make it interesting enough. I actually got started on this path after purchasing an Eduard Duo combo kit with a pair of P-39 Aircobras. Soon I decided at least one other type of aircraft and a few complimentary vehicles would dress it up nicely. I bought an ICM Spitfire which turned out a pretty cool little kit for the money. The kit also featured a number of figures in Russian military dress. I further managed to find a set of other Russian figures from Eduard which isn't in production anymore. And finally I found some Russian vehicles, a Gaz-67B (Russian type jeep) and a refuelling truck. All in 1:48 scale which made finding all this not all that easy.

Building all of this turned out to be a lot of fun. The P-39s were quite perfect and were easy to assemble. Eduard provided decals and instructions for no less than ten aircraft and the decals are beautiful. The Spitfire was quite nicely detailed straight out of the box but I did get a small set from Eduard to give it that edge. The weird green colour turned out to be quite pretty. The Gaz-67 is a Tamiya kit that went together really easily and it took me just five days to finish it. The refuelling truck was definitely not of the same quality. The plastic was soft and tended to break at the mere sight of it. I managed to put it together just fine however and it looks the part.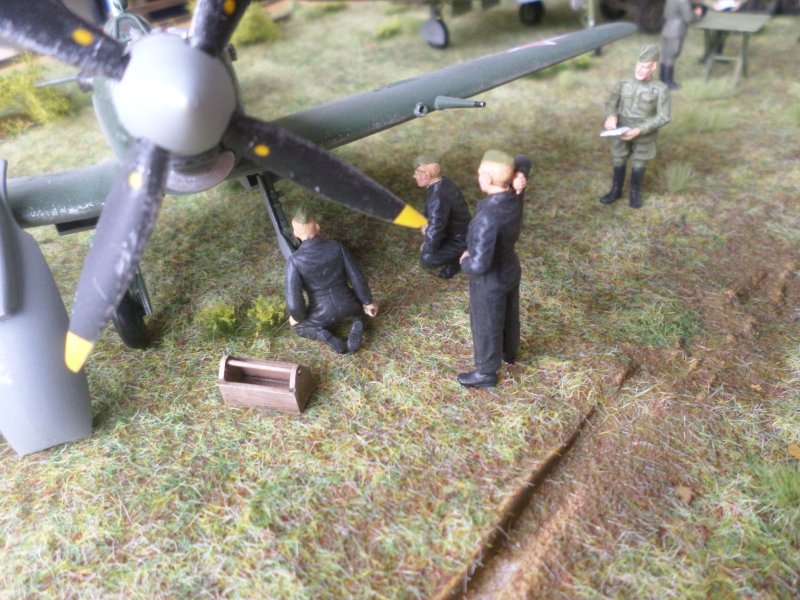 The diorama was built on an MDF plank that I had cut to size so it would fit nicely on a shelf. I used gypsum to make the ground uneven and made some tracks as it solidified slowly. They turned out just fine. I sprinkled on a thin layer of fine sand and made it stick using highly diluted white glue that I sprayed on with an ordinary plant sprayer. I gave that a good coat of dark earth.
Most of that got covered with grass in different colours which turned out better than I expected. I added a number of trees and a fence in one corner. I added lots of little details like clumps of grass, flowers, bushes and leaves. Finally I added a fuel hose near the truck and a number of crates and bags that I scratch built entirely. I managed to collect no less than 14 figures in total and hand painted them which I think turned out pretty well. A lot is going on on this diorama and I hope you enjoy watching it as much as I had building it.
Klaasjan Schuuring
Click on images below to see larger images