Here I am, again; with something new, for me: a Tamiya model. So many years looking at those boxes, wishing to work on them, but any time deeming them too good for my poor capabilities as well as too expensive to my poor pockets.
Now, I tell you all, out there: do not make same mistake ! How many wasted time to overcome trouble with parts to joint or plastic poor quality; while this box fits almost on its own. Very impressive some design solutions too, f.e. some hidden parts devoted to join each to other, preventing need to have (too much) glue over jointing portion of pieces, so preventing even possibility to glue to overflow and damage surfaces.
Indeed, also other brands (Italeri, Hobby Boss, Edward, etc.) have good products, and I already experienced them, but this Tamiya boxes seemed to collect so many good qualities, I strongly suggest this manufacturer (too).
Having said that, almost no story: everything went fine straight OOB; in a very short time, cockpit was over; than plane body, wings and tails very simply went together. This box (60786) is very "slim": only wing tip rails could be equipped, with AIM7 or AIM9. There is another one, with full ordnance, available by 30% higher cost. Fortunately, digging in my modeler story, I rediscover a very old Esci Box: my first (so far, unique) Viper attempt. I got from it centerline pylon and tank and external underwing pylons. That's why you could see my Viper exhibiting tank and 4 talons.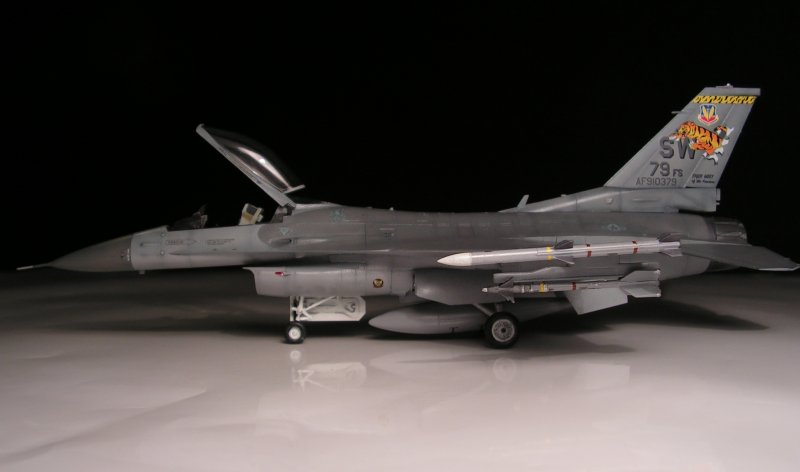 Now a trouble with Tamiya: color reference. Not very comfortable to provide only spray cans color code; luckily, many files are available to find right colors. Heavy pre-shading along with different shades of three basic colors to make more attractive a likely dull camouflage ensuring as well emphasis of very reach and fine panel lines set.
No chance about version to choose: it should have been my first Tiger Meet reproduction; so, here it is: by Colorado Buckley AFB, on 2001 Tiger Meet of Americas, mount of Lt Col. Jim Horton, according to box decal sheet. By the way, also decals have been a pleasure to apply.
Enjoy modelling
Andrea Pomettini