The Vermont Air National Guard was founded in 1947 as the 134th Fighter Squadron. Based in Burlington, Vermont, they were tasked with a primary mission of air defense of the Northeastern United States, and a secondary mission of ground attack.

In 2015 I decided to undertake the building of their entire aircraft history in 1/72, as they are based in my birth city. This was ambitious since no decals exist for most of their aircraft as of this writing, leaving me to test the limits of my resourcefulness.

In 1954 the Green Mountain Boys received their first jet fighters in the form of the Lockheed F-94B Starfire. Since this represented a major change from their P-51ís, the F-94ís were also accompanied with T-33 trainers. Their T-33ís would be a continuous presence on the Vermont flightline until the early 1980ís, also serving as support for their F-89ís, F-102ís, EB-57ís and F-4 Phantoms.

I decided to portray both early and late appearances of Vermontís T-33ís. The earlier metal scheme is from the early 1960ís, depicted with the Sword 1/72 kit. Itís a good kit with some complications, with a nice set of PE detail. The actual aircraft was involved in a forced landing on a snowy landscape, which the crew thankfully survived without injury.

The later scheme is depicted by the Italeri kit, which is the Platz kit reboxed. It lacks the PE detail of the Sword, but still builds up very nicely and quickly. It is finished in the final appearance of the Vermont T-33ís, after several other preceding schemes.
As with most of the Vermont aircraft, no decals exist in 1/72 for their T-33ís that I am aware of. The later scheme (as depicted on my Italeri build) is available in 1/48 from Caracal decals. The 1960ís scheme was painted in various shades of Alclad with Model Master enamels in support. Decals were scrounged from various sources including kit decals and generic numbering/lettering decal sheets.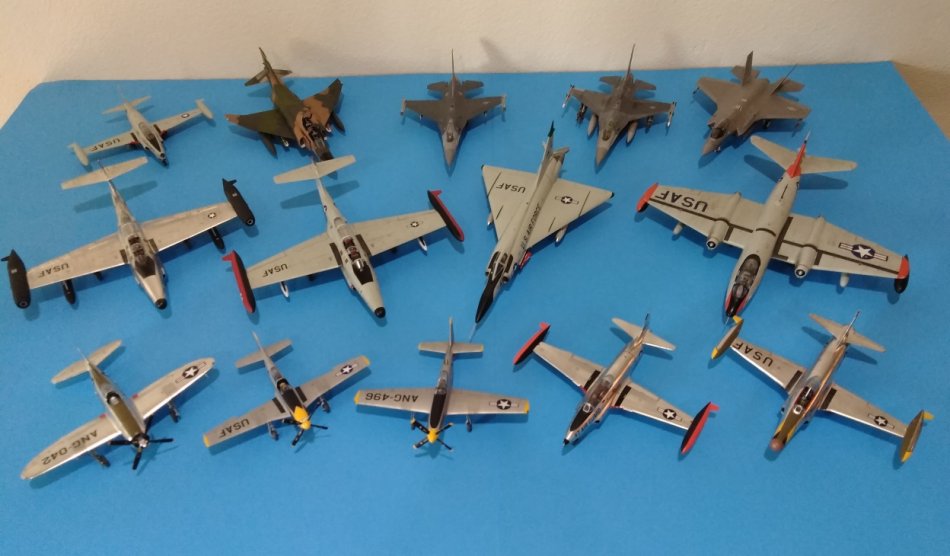 The 1980ís scheme was painted in Model Master enamels, and decals similarly scrounged from the kit and other sources. The tail rudder was done with wide yellow decal film, and then more narrow green decal striping.

Next time is Vermont ANG part 5: F-94B Starfire.
Andrew Desautels