I've said in unequivocal terms in previous ARC submissions that the Hasegawa kit of the 1/48 A-7D Corsair II is the market standard for overall value. Along with this kit, there are more than enough after market decal sheets to make a replica of nearly any A-7D that was in service at any time period, regardless of service branch (e.g. Navy, USAF, etc.) That said, I used a Two Bobs decal sheet in addition to the kit decals to make my kit a Corsair II that was used by the USAF's 354th Tactical Fighter Wing during the late Vietnam War period, a unit that utilized the "shark mouth" motif, a la "The Flying Tigers" of 1940-1941 China fame.

I basically followed the colorful layout on the Two Bobs sheet to paint my model. I used a True Details after market cockpit seat in place of Hasegawa's offering.

Where I got creative was with the intake and engine exhaust opening covers: More times than not my reference photos showed both openings were protected with a cover to prevent dust, debris or any foreign matter from getting into the engine components. For the tailpipe, I fashioned a piece of red masking tape, then applied using its natural stickiness, trimming excess around the circumference as needed.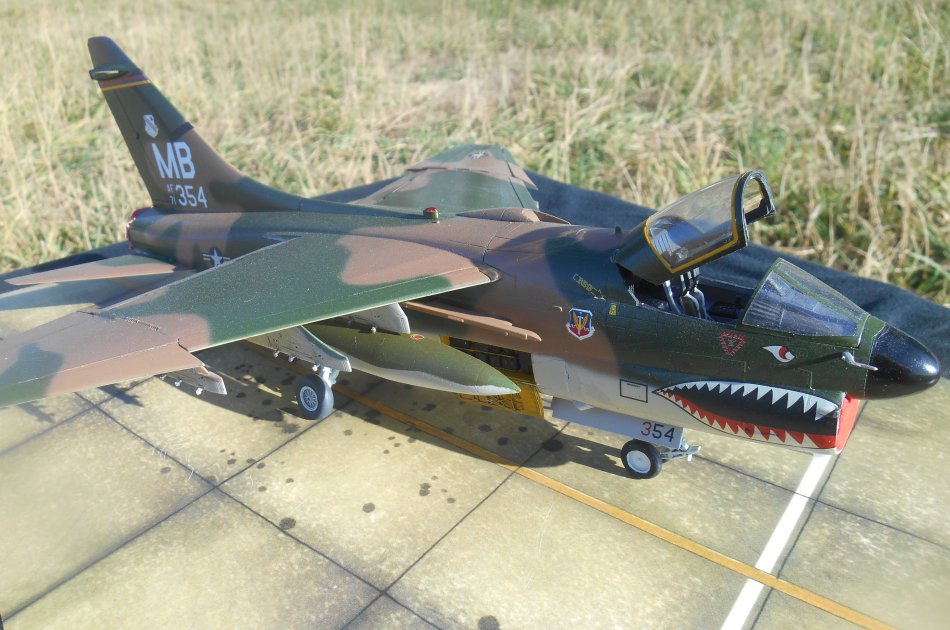 For the intake duct, I was struck by seeing two different types of covers used: one was a wrap-around type, using elastic/rubberized strings to attach to external fuselage locations to keep it in place; the other was an interference fit insert, like a cushion, not using any attachment strings. I preferred this latter type, so I made an outline of the kit duct opening on a piece of cardboard, then transferred the cutout piece of cardboard to a piece of firm foam, marking its outline on that material. I trimmed as needed with a sharp x-acto knife until it fit snugly into the duct. Once I got the firm fit, I painted it red before sticking it in place. An alternate way of going would be to buy Steel Beach duct covers, excellent items in themselves, but I don't recall one that fit a 1/48 A-7.
Carl Jarosz