Canadair CL.13 (F-86F) Sabre Luftwaffe JG72 (1966)
Some of the more striking markings on F-86 Sabres were found on foreign aircraft, such as this one that served with the West German air force during the Cold War. Italeri lately released a nicely molded F-86 and included the unique markings of Jagdgeschwader 72. I simply had to build it. For the money, Italeri issued a decent basic late version of the F-86, although without added features that one finds on premier kits issued by Hasegawa, Tamiya or Academy.

This aircraft was identified as a "Canadair CL-13," built in Canada, as that company bought the manufacturing rights to make F-86s north of the border. That country then sold to buyers elsewhere, with North American Aviation (US) getting a royalty. The aircraft depicted by this replica was bought by the West German Air Force.

I built the kit straight from the box, which is rarity for me these days. Normally I at least replace the cockpit seat with an after market brand, but not in this case: the seat details were crisp and adequate enough to suit me, and I thereby saved a few dollars that I can now add to a different kit worthy of building.

The instruction sheet had decal placement sketches which were rather clear and correct. Still, there's no substitute to check with printed references. In this case, AirDoc has published a series of booklets on the modern West German air force, one of which covers the use of the F-86/CL.13. I recommend the serious modeler to get the booklets in this series if he plans to build West German aircraft models.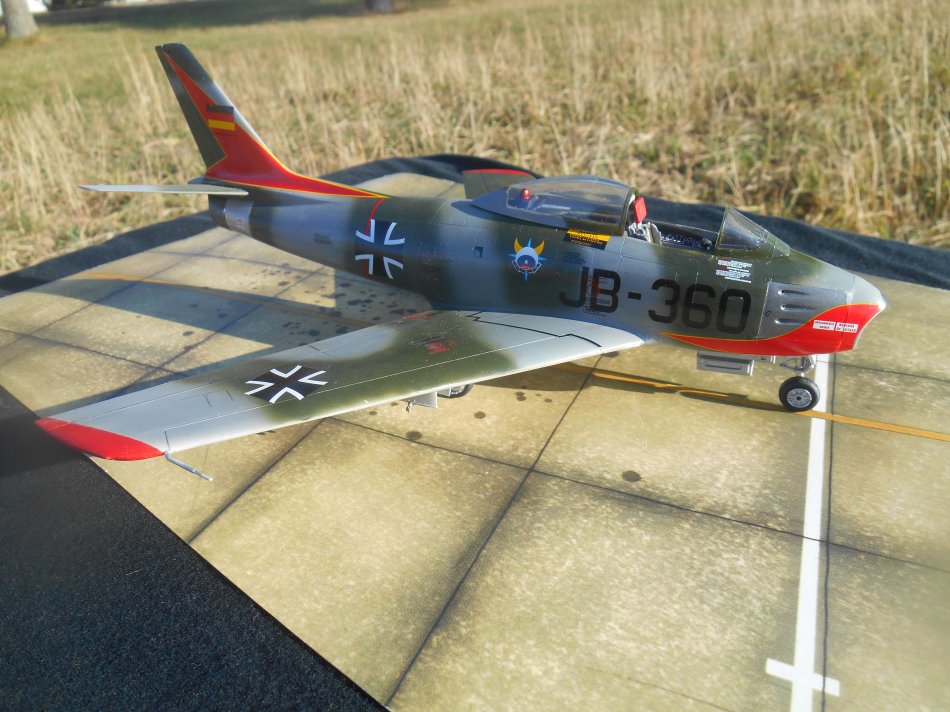 Finally, it never fails that with a wrap around decals, like the ones that came with this kit, will require ample amounts of decal set, plus several lances of the decal with a new, sharp x-acto blade to ensure the large decals adequately lay and set on the model. Yes, I had to splice the red nose decals, plus break out the Ammo/Mig Decal Fix. Anything else failed to properly set the decal in place.
Carl Jarosz