Using wood construction technology from the successful Mosquito, de Havilland developed the Hornet as a long-range escort fighter for the Pacific Theatre. Like many late war aircraft designs, the Hornet just missed combat with the remnants of Japanese forces. It did continue to serve until 1956 as the jet era was by then in full swing. Chief Company Test Pilot, Captain Eric "Winkle" Brown, ranked the Hornet as #1 of all the hundreds of aircraft he flew. The 2,070 HP Rolls Royce, "slimline" Merlin 130/131 engines gave the Hornet a top speed of 475 mph with a range of 1,480 miles and a 5,000 fpm climb rate. The Hornet was armed with 4- 20mm Hispano Mk V cannons with 190 rpg and could carry 2- 1,000 lb. bombs or 8- 60 lb. RP-3 rockets. The similar Sea Hornet was developed for the Fleet Air Arm. 383 Hornets of all variants were built. The model represents a Hornet F.3 flown by 64 Squadron in 1947. Unfortunately, there are no flying survivors, but it is reported a Sea Hornet is being restored to flying condition in New Zealand.

The Model
After completion of a 2-month long diorama project, I wanted to build something simple, yet fun to build, and the Hornet kit, a gift from my good friend Harry was just the ticket! The Trumpeter kit is simple, well engineered and the fit of parts is very good. The Hornet's wood construction and panel lines are well replicated.

It was built out-of-box with only drilled out and painted red/green bulbs in the clear nav lights and a guitar string ventral whip antenna. It was painted with Tamiya Silver Leaf to replicate the factory "Speed Silver" used on the wood and fabric surfaces. Kit decals went on perfectly. The idea of a very simply marked Hornet with no distracting marking was accomplished, allowing one to focus on its graceful lines.

The props were painted Tamiya semi-gloss black with Testors yellow tips and Tamiya red spinners. The exhaust stacks were given a light coat of Model Master gunmetal and dry brushed with steel.

The cockpit detail was rather basic other than the seat and instrument panel decal. The cockpit was painted with Tamiya cockpit green and the canopy closed to retain the smooth lines of this beautiful aircraft that looks good from any angle.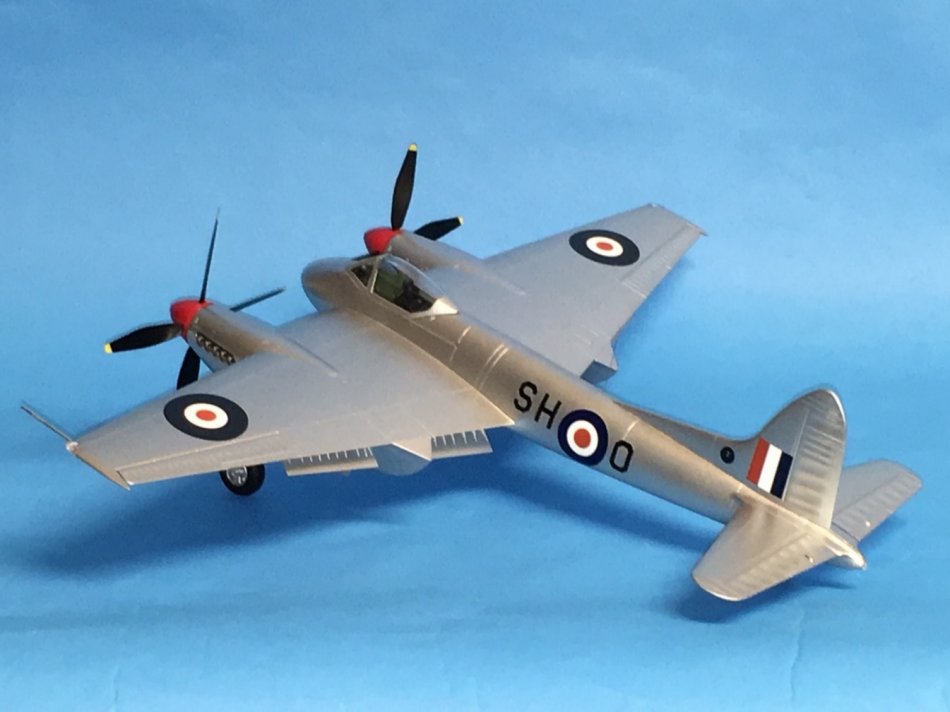 I am a huge fan of the Grumman F8F Bearcat and F7F Tigercat. But I must admit, the Hornet fits right in with similar performance.
It would be interesting to see how all three would have performed against Axis aircraft. Thanks for the Hornet Harry!
H. Davis Gandees