Hello to all. Here it is, my FW-190 D-11 in 1/48 scale from Hobby Boss.

The kit was a real pleasure to build, almost no filler was needed and the kit parts joints were almost perfect. It came with some tiny photoetched parts for the canopy, to improve the detail on it. The decals performed just as good as the kit parts, no problem with them. I applied Micro Set and Micro Sol and that was enough. However the kit did have a flaw. The D-11 has two bulges on the upper surface of the wing, beside the 2 on the wing roots, which the kit hasn´t provide. The solution, in my case was simple, I have a FW-190 A-5 light fighter from Eduard, that has that 2 bulges as a surplus, so I grabbed them and installed them on the kit. I think that HB mistake is due to the fact that they use the same basic wing for all their Doras kits, so, if you build a D-9 or a D-13 the wing would be right, but not for the D-11 as I had 2 wing cannons per wing.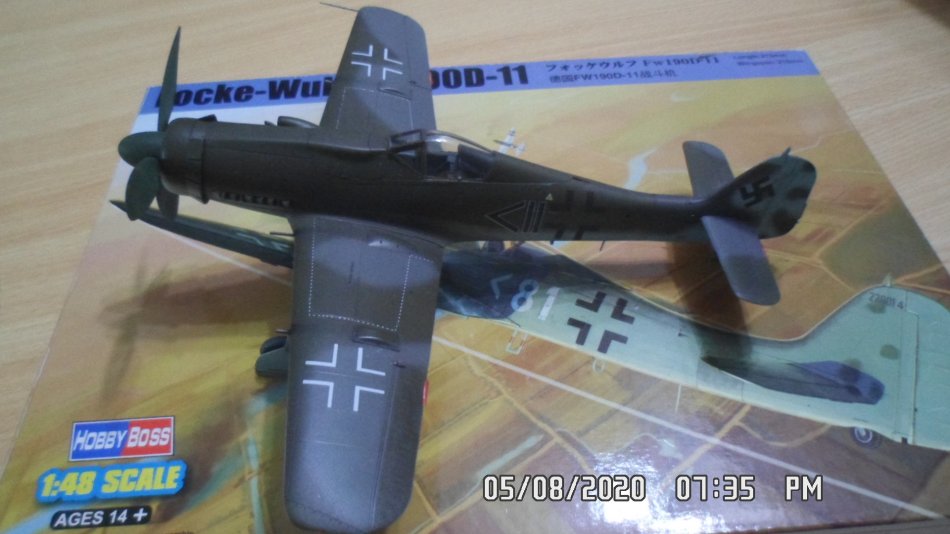 It was painted with Vallejo, AK-Interactive, Sicko and K-4 acrilic paints which performed in an excellent way. This was the first time I made the final varnish coat in a flat finish, and I´m very satisfied with the final result. Weathering was made using chalk pastels, the hard ones.
Juan Carlos Gómez Y Sarzotti
Click on images below to see larger images