F-86D Sabre
62nd F.I.S./56th F.I.G.
I make no apologies for my weakness building F-86D Sabre kits of the post-WWII era, in main part because Iím an avid dog lover ("D" for dog). I also remain convinced Monogram's ProModeler kit is the best such 1/48 kit available, with many still offered for sale on Ebay and elsewhere; no need to consider buying foreign-made F-86D kits, except for smaller and larger scale Sabres.

I used SuperScale decals for a "Dog" Sabre from the 56th Fighter Interceptor Group in the mid-1950s. As the decal sheet was issued back in 2001, itís no longer produced. I bought my sheet from a seller on Ebay. On a cautionary note, I strongly recommend applying Microscaleís Liquid Decal Film to the sheet before cutting each decal, especially to the multi-colored angular fuselage band, as it tends to crack at the edges, this due to the age of the decal sheet (20 years old).
On a historical note, 56th F.I.G. traced its history to the 56th Fighter Group (FG), of the 8th Air Force, during WWII. That group, of which the 62 Fighter Squadron was part, amassed the second highest number of victories against German aircraft, downing just over 1,000 of them; the 4th FG came in first place, but they were in active service for a longer period of time than the 56th, too. Moreover, the 56th FG exclusively flew P-47s, much preferring them to the P-51 Mustang, which was quite unusual.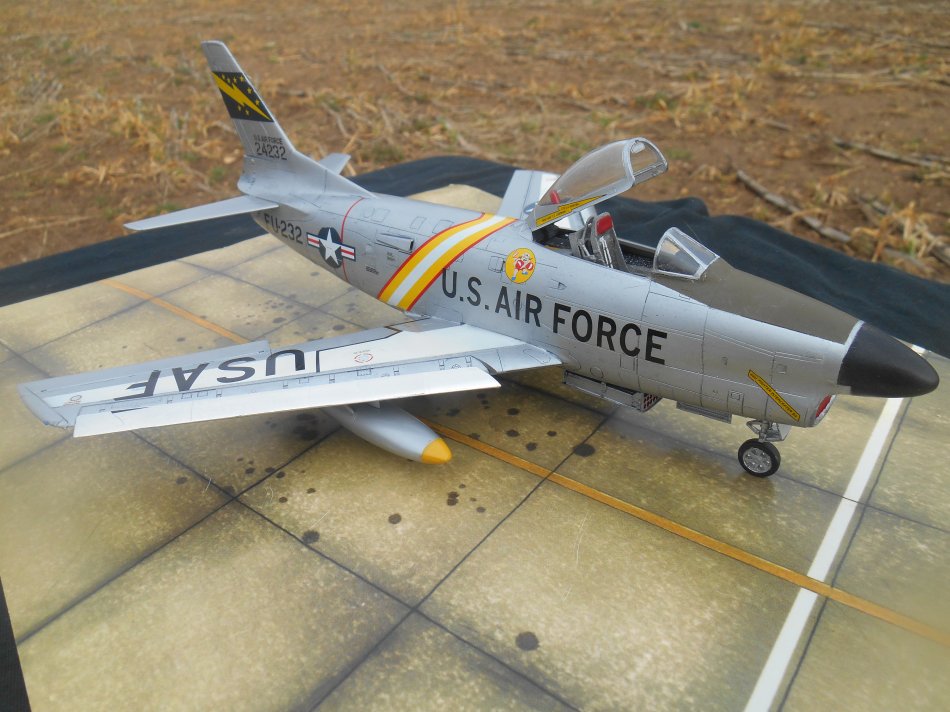 I didnít invest money on any after market items, except for the mentioned decals. In my build, I applied Bare Metal Foil (BMF) to accent the deployed leading edges.
Carl Jarosz