1/48 Hasegawa Bf-109 G-10
| | |
| --- | --- |
| | Gallery Article by Arkut Yuksel |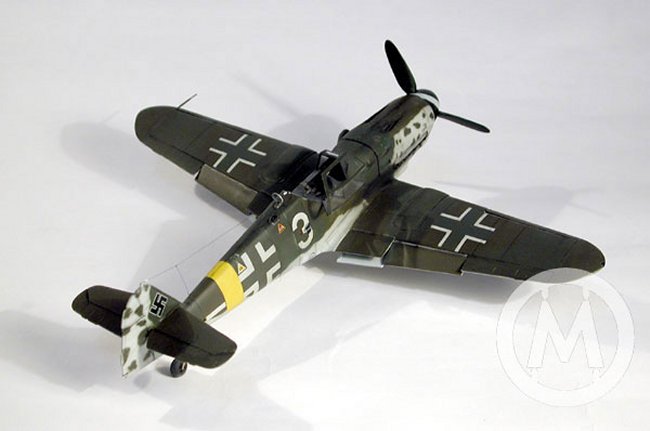 This is a model kit from Hasegawa in 1/48 scale bought some two years ago just by the love of the pig drawing on the fuselage by the cockpit.
Actually, I am not a complete fan of the Bf-109 nor the Fw-190 or the Spitfire, I am a complete fan of the F-15. But when it comes to the aircraft modelling, I've got only one bullet to spend on: German Air Force in WWII. Because of way they painted their aircraft is just simply great. That is why I prefer the German aircraft. (This does not mean I do not have any other type of aircraft but my favorites are these)
So when I first saw this kit, I found it so funny; that I tried all my opportunities to get it and approved.
And the construction started; as I wanted a quick finish to see a new model in my hands I did not care about the cockpit and just tried to get it finished and done.
Then I finished the outline, of course some more care has taken about that part of the construction; like the joining line at the back of the aircraft, on the fuselage, is not touched as there is a joining line on the real one etc.
Then time for painting, the Hasegawa instruction stated darker shades of green and olive drabish paints for the upper surfaces. But as known by most of us, there are lots of shades for those colours. So I tried to use the box art as a guide and then decided to use the darkest shades as illustrated on it.
There helped me Gunze Sangyo H423 Dark Green and JPS RLM 81.
For the underside I chose again the JPS RLM 76.
I prefer the JPS colours because those are the ones that I am used to using.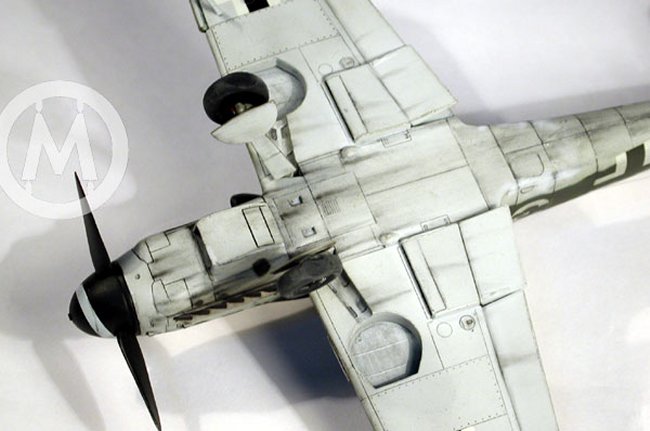 After finishing the painting, then the decals went on and then some gloss clear to help on weathering, well actually for pointing out the panel lines. For that I used the oil paint; then came the matt clear and some weathering with the pastels and some with Gunze Sangyo H77 Tire Black. And some metallic paint to goes for paint scrapping.
After all another coat of matt clear varnish goes for as a protecting coat.
Well, what can I say; I tried to do a good job on this project; of course by looking here and there to have some idea of how to weather the Bf-109.
I do hope to achieve some better results in the future.
I do thank to my friend UFUK AYDINER a lot for taking the photos; without him no one could share in my enjoyment.
Arkut Yuksel