1/48 Hobbycraft Me-109D and 1/48 Tamiya Me 109E
| | |
| --- | --- |
| | Gallery Article by Sinuhe Hahn on Aug 1 2003 |

Switzerland - Foundation of the Swiss Confederation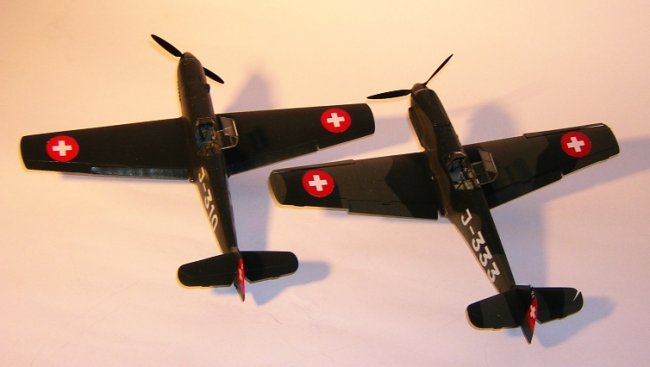 Me-109 in Swiss Air Force
Decals by Piet van Schalkwyk and Sinuhe Hahn
In 1939 the Swiss Air Force acquired a sizeable number of Me 109D and E's (the Swiss did not make use of the Bf prefix, but used the Me prefix). This followed a thorough evaluation of other comparable aircraft at the time e.g. Heinkel, Macchi, Morane and Spitfire. It is interesting to note that Swiss pilots were more impressed by the performance of the Me 109 E than that of the Spitfire Mk1! In any case the British government at that time forbade the sale of any first class front line fighters such as the Spitfire to foreign powers as it was clear that war was imminent. Training for the new fighters was performed in the structurally similar Me 108 Taifun.
J-310 is probably the most frequently depicted of all Swiss Davids. This aircraft was lost on 7 June 1940 in combat with Luftwaffe Bf 110's, with the loss of Lt. Rudolf Rickenbacher. At that time, it appears that Goering was trying with all might to involve the Swiss in the conflict - a prelude to a possible invasion? The lesson that Goering should have learnt from these entanglements was the Bf 110 was no match in combat for the more nimble single seat 109 fighters, and several of the German aircraft (including He 111's) were shot down over Swiss territory or had to crash land in neighbouring France.
I have decided to depict my models in their livery schemes, the David being single colour Black Green and Light blue, whereas the Emil had a wavy pattern of Dark Green & Black Green. The aircraft were delivered without any armament, this being fitted locally. In the case of the Emil this is obvious from the blanked-off gun troughs. Unfortunately, the Swiss armament, especially the wing cannon, turned out to be extremely unreliable, to the extent that aircraft were frequently only armed immediately before take-off! No armour was fitted to either aircraft, a feature which would have fatal consequences in later encounters with USAF P-51's.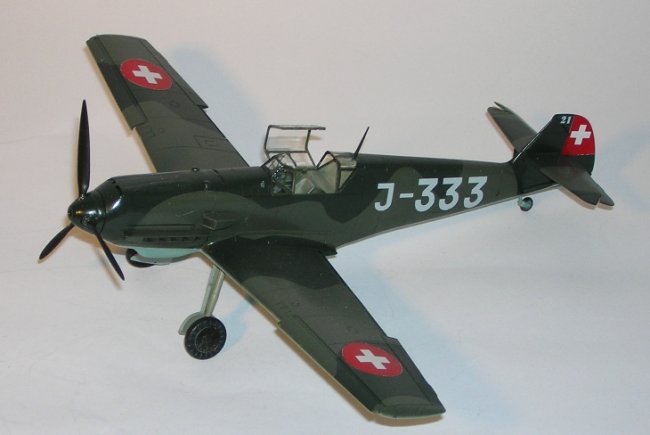 For my models I used the Hobbycraft David and the Tamiya Emil (with all it's faults). Gunze paints were used throughout. The decals were printed on an ALPS printer, and I would like to thank Piet for his invaluable assistance in generating the serials for these models.
Sinuhe Hahn