1/48 Tamiya Bf 109E-3
| | |
| --- | --- |
| | Gallery Article by Lynn Ritger on Aug 1 2003 |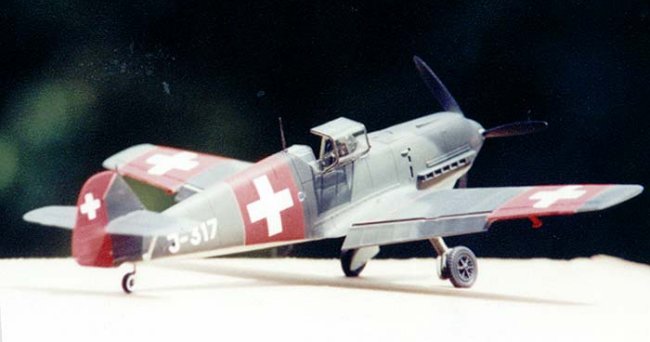 This Bf 109E-3 (J-317, WNr 2165) was taken on strength of the Schweizer Flugwaffe on 23 June 1939. It served briefly with 21. FlKp before being transferred to 8. FlKp, where it remained until being struck off charge on 17 June 1947. I chose to build J-317 for one main reason; I have a very good friend in Switzerland by the name of Tom Fischer, and this particular aircraft was listed as having an emergency landing (motor failure, no other damage) at Genf while being flown by A. Fischer on 13 March 1940. I don't know if they're related or not, but it seemed an appropriate tribute to a great friend.

The model used was the "old-tool" Tamiya Bf 109E-3 with inaccurate cowling and intake. I modified the cowling to Swiss standard with two MG29s fitted side-by side (not staggered); this necessitated filing off the MG17 synchronization gear bulges on the main cowling as well as the raised troughs around the gunports, filling a few panel lines with superglue, rescribing new panel lines, and adding two small breech covers from spare resin off-cuts sanded to shape. The gun barrels are simply stretched sprue, drilled and mounted to the Tamiya piece (in lieu of the MG17 barrels... those were saved for another project).

The paint scheme is a fairly free-form "export" scheme of RLM 70 and 71 over 65; I used Floquil's 70, and Floquil Pullman Green for the 71 with Model Master 65 beneath. A quick note about the Model Master colors... I absolutely detest spraying gloss or semi-gloss colors due to the drying time, and I've found that thinning these with straight lacquer thinner not only offers a far quicker drying time, it also allows for much better control of the spray pattern. The Floquil paints were thinned with DioSol, and as usual they went down perfectly.

The markings came from an out-of-production Cutting Edge sheet graciously sent to me by Dr. Sinuhe Hahn, another Swiss friend; it should be noted that the instructions are slightly wrong, in that they give a "fish in a ring" emblem for J-317. That emblem belonged to 7. FlKp, whereas a number of aircraft in 8. FlKp featured very skillfully executed floral arrangements on the cowlings (!!!) along with the specific names of said flora. Unfortunately, while a number of these beautiful artworks were captured on film, no one seems to have thought to tie them to a particular airframe; thus, the only 8. FlKp aircraft to be tied to one of these emblems is J-360 ("Narziss"/Narcissus). As I couldn't be certain whether my chosen aircraft had one of these artworks or not, I simply left the cowling bare, which was the usual standard for 8. FlKp.
Other details added include a scratchbuilt KG11 spade-grip stick, Cutting Edge resin seat with molded-on seatbelts (every Emil fan should have a number of these in their parts box), True Details resin wheels to replace the skinny kit items, and two lengths of solder for the brake lines.

As I was awaiting word from a company regarding potential employment, I was able to complete this Emil (along with another) within a week... this is primarily due to the incredibly easy construction offered by the Tamiya kit. While I feel the Hasegawa kit holds the edge in the accuracy department overall, the Tamiya version can be built in less time than it takes to download an MP3 on a dialup connection. :)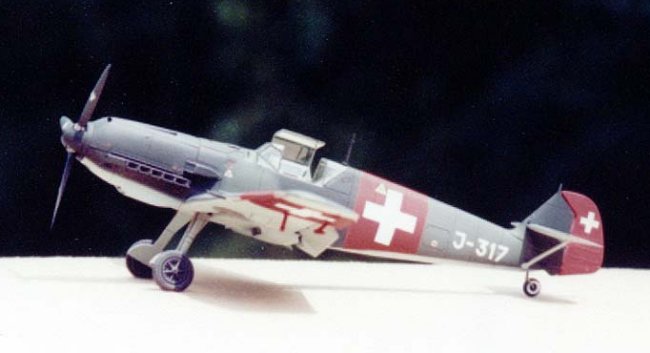 Reference for this particular aircraft came primarily from the superlative book by Georg Hoch, "Die Messerschmitt 109 in der Schweizer Flugwaffe". My heartfelt thanks go to both Tom and Sinuhe for their information and their inspiration to do this most colorful aircraft... and the photos truly do not do the scheme justice, the red is FAR brighter than what the film shows!

Lynn Ritger
Webmaster, The 109 Lair http://www.109lair.com