1/72 Italeri Bf-109F-4
Gallery Article by

Joe Youngerman on Nov 13 2003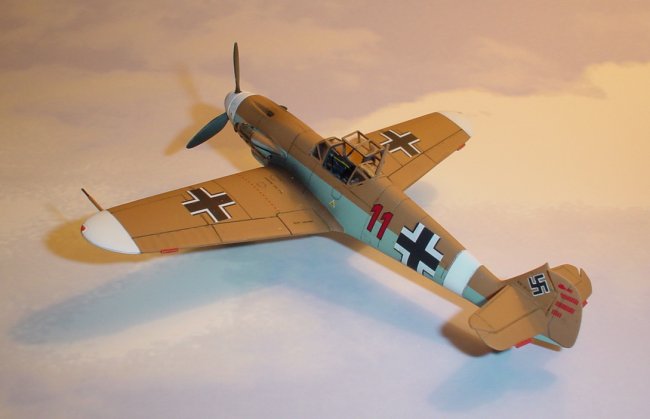 The Bf109F is one of the most attractive looking variants of this legendary fighter. The unsightly humps and bumps found on early and later models are not present and its clean lines can clearly be seen in the desert scheme found on this aircraft. My aircraft depicts Lt. Friedrich Korner's machine as it appeared in June 1944 in North Africa. Korner was flying with II/JG 27 and managed to get 36 kills during his time there. I had read all the negative press about Italeri's F model 109 but since I had a Hi-Tech resin update set I decided to give it a try!
Let me start by saying that most of what you have heard is correct. The kit suffers from numerous flaws and not all are corrected by the Hi-Tech resin bits. The spinner, prop, wheels, exhausts and cockpit are though and it makes a dramatic improvement in the look of the finished product. This didn't help the empty wheel wells or scribing that did not match up on the fuselage, so those had to be addressed on my own. One other glaring problem, (that I did not fix), can be seen in one of the photos. The main gear legs are way to far out on the wing. The gear actually attached to the fuselage and should be narrower. On the plus side...the fit of my kit was very good overall.
I did cut and open the canopy so that the nice resin cockpit could be seen. I also chose to cut and drop the elavators slightly to add a little realism. I finished my 109F using Floquil Sand 79 and Polly S RLM 78 on the belly. The cockpit was again Polly S RLM 66. The propellor blades are Gunze RLM 70 and finally the theater markings Polly S White. After coating the model with future I added the decals which are by AML. They are nicely done but a resisted setting down properly. Considerable applications of Micro-sol finally did the job.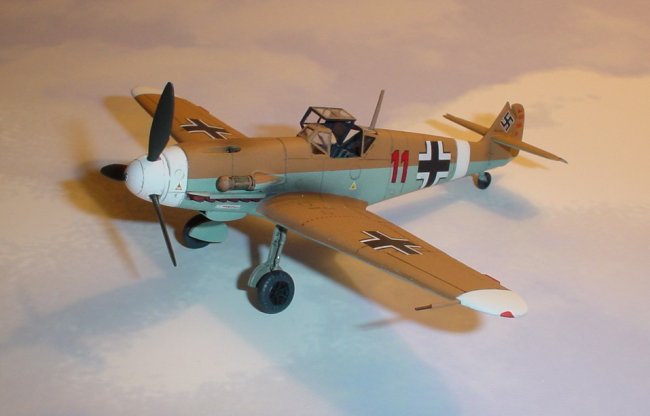 In the end there are still flaws, both mine and the kit's, but I was happy with the result and the addition to my collection of World War Two aircraft in this scale.
Joe Youngerman