"Black 8"10./JG4 Pilot: Oblt. Rolf Schlegal
This is 1:48th Hasegawa Bf 109 G-14 which I painted and marked as "Black 8"10./JG4 Pilot: Oblt. Rolf Schlegal, late 1944.

Painting:  
I used Tamiya and Gunze acrylics. All panel lines were pre-shaded with dark grey, followed with RLM 76, 74 and 75, the camouflage was done freehanded. Once the camouflage and underwings were dry, I masked the wheel wells, the lower cowling, and fuselage and painted the black and white RV bands, the yellow identification, and the wheel wells. With all the painting just about done, I allowed the kit to dry overnight before applying a few thin coats of Pascoes Long Life for the gloss coat. The Pascoes goes on very thin and dries quickly. I applied it using a soft synthetic bristle flat brush. It's good to allow the acrylic sealer to dry for 24 hours before decaling because the setting solution can cause the acrylic sealer to become soft and turn white.
The decals are from Eagle Cals sheet #44 Messerschmitt Bf 109 G-14s. The decals go on very easily, but take care not to tear them. I use Micro Scale's Micro Set and Micro Sol. In Unison these do a great job on decals. After the decals were on and dry, I applied the matte coat which removes the gloss of the floor sealer. This gives both the paint and the decals a more realistic appearance.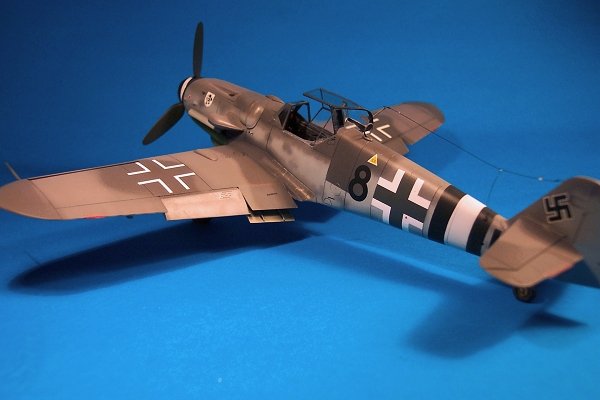 Notes:  
The additions which were made to the aircraft are the addition of Eduard's Zoom Bf109G interior detail set, this adds the PE parts and acetated instrument panel. I also added brake lines to the struts and True Details weighted wheels. Antennae wire is made from synthetic invisible thread. The only discrepancy on this kit is the lack of the battery box behind the canopy head rest. I chose to leave it as it is.  
Anthony Manzoli