This pre-painted photo etch detail set from Eduard is part of the Zoom series of photo etch sets and is available directly from Eduard Model Accessories. This is a cockpit detail set designed for the 1/32 Italeri F-104G. The parts include some pre-painted parts for the instrument panel, side consoles, HUD and canopy mirrors etc.
There are 2 pages of instruction in the usual line drawing format that Eduard is famous for and which are so easy to follow. You will be required to cut away detail on the kit parts to fit these photo etched parts, but this is indicated on the instruction sheets.
You will be required to fold the photoetch in this set, but if you have one of the Hold & Fold photo etch benders from The Small Shop, then this will be an easy process. They have a variety of benders for sharp corners as well as rounded corners and in many different sizes.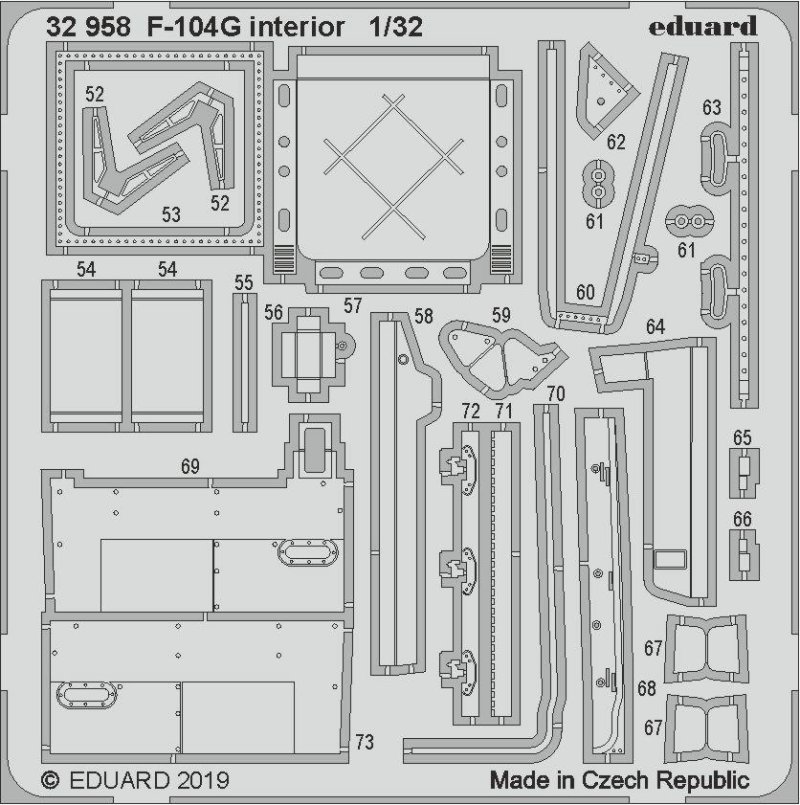 This set includes 2 photo etch frets with one being pre-painted for the instrument panel and the other fret contains parts that will be painted in the basic cockpit color. There are metal frames holding the canopy mirrors to the canopy which you can attach to the canopy using Future or you can coat the canopy in Future and then use CA glue to attach the metal to the canopy. CA glue fumes will fog the bare clear plastic if the plastic is not coated in Future. This set does give you a huge amount of detail to upgrade the Italeri cockpit and the pre-painted parts will give you a level of detail that will really make the cockpit stand out.
You can buy this pre-painted photo etch detail set and thousands of other items directly from Eduard Model Accessories.
Steve Bamford