This decal sheet from airscale includes instrument decals for modern jets. These decals are also available in 1/32 scale.
You get a total of 32 different instruments plus video screens in high detail and colour where applicable. These can be used on kit instrument panels or in photos etch panels or scratchbuilt panels. You can scratchbuild your panel by using the photo etch bezels from airscale.
The decals are very clearly printed and in perfect register.
The 2 pages of instructions are clear and include all necessary info about how and where to install these individual instrument decals. You can also find photos on the airscale website of various instrument panels which will assist you in finishing your instrument panel.
Each set includes:
Full colour cockpit instrumentation and Multi-Function-Displays representing key flight instruments found in modern jet fighter cockpits including F-14, F-15, F-16, F-18, Rafale, Tornado & Typhoon
Multiple display screens in different colours, including 'live' screens with display info
Each instrument is separate on the decal sheet with a minimum of carrier film
Includes a small sheet of optically clear replacement simulated instrument glass
Fully illustrated instructions
Airscale instrument decals can be used either;
Behind kit instrument panel parts, mounted on a backplate
Applied on top of a kit panel. (Decal setting solutions may be required)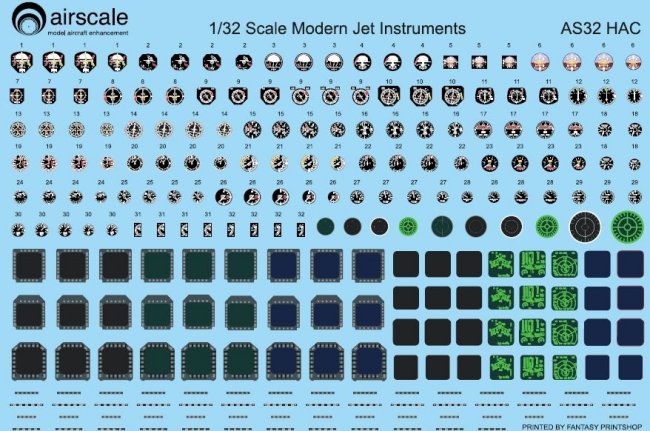 This decal sheet gives you everything you need to fully detail the modern jet instrument panel. This decal sheet is also available in 1/48 scale.
I would like to thank airscale for providing me with this product sample.
You can buy these and other individual instrument and instrument panel decals and cockpit placards and instrument bezels in a variety of scale directly from the airscale website.
Steve Bamford