This resin set from Eduard is part of the Brassin series and is available directly from Eduard Model Accessories. This set includes four AIM-9B Sidewinder Missiles in 1/32 scale.
The first combat use of the Sidewinder was on September 24, 1958, with the air force of the Republic of China (Taiwan), during the Second Taiwan Strait Crisis. During that period of time, ROCAF North American F-86 Sabres were routinely engaged in air battles with the People's Republic of China over the Taiwan Strait. The PRC MiG-17s had higher altitude ceiling performance and in similar fashion to Korean War encounters between the F-86 and earlier MiG-15, the PRC formations cruised above the ROC Sabres, immune to their .50 cal weaponry and only choosing battle when conditions favored them. In a highly secret effort, the United States provided a few dozen Sidewinders to ROC forces and an Aviation Ordnance Team from the U.S. Marine Corps to modify their Sabres to carry the Sidewinder. In the first encounter on 24 September 1958, the Sidewinders were used to ambush the MiG-17s as they flew past the Sabres thinking they were invulnerable to attack. The MiGs broke formation and descended to the altitude of the Sabres in swirling dogfights. This action marked the first successful use of air-to-air missiles in combat, the downed MiGs being their first casualties. [Wikipedia]

During the Taiwan Strait battles of 1958, a ROCAF AIM-9B hit a PLAAF MiG-17 without exploding; the missile lodged in the airframe of the MiG and allowed the pilot to bring both plane and missile back to base. Soviet engineers later admitted that the captured Sidewinder served as a "university course" in missile design and substantially improved Soviet air-to-air capabilities.[citation needed] They were able to reverse-engineer a copy of the Sidewinder, which was manufactured as the Vympel K-13/R-3S missile, NATO reporting name AA-2 Atoll. [Wikipedia]
This resin set includes:
four complete AIM-9B Sidewinder Missiles

guidance sensor ground covers

glass parts made from clear resin

front winglets separately

photo etched rings for rear of missiles

decal sheet with all the stripes and stencils for the missiles
There are 2 pages of instruction in the usual line drawing format that Eduard is famous for and which are so easy to follow. The instructions include a painting guide and decal placement guide.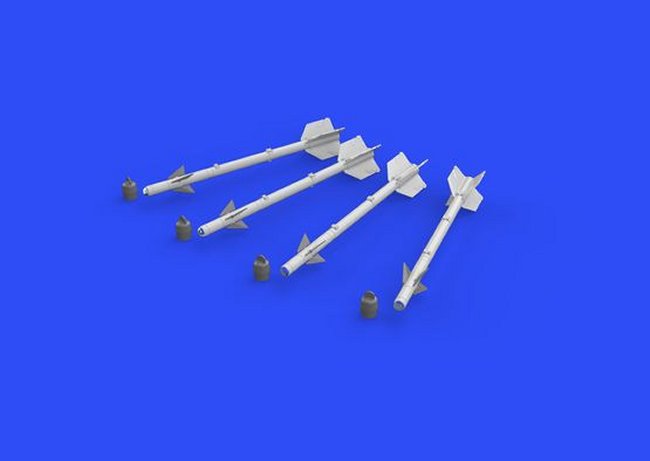 These missiles provide very high quality level of detail and realism for your early 1/32 jet.
You can buy this detail set and thousands of other items directly from Eduard Model Accessories.
Images in this article are by Eduard Model Accessories.
Steve Bamford