This resin set from Eduard is part of the Brassin series and is available directly from Eduard Model Accessories. This set includes two WGr.21 rockets for Bf-109 in 1/48 scale.
This resin set includes:
two complete WGr.21 rockets

two rocket tubes

2 rockets

support struts for rocket tubes

photo etch detail parts including alignment took for struts
There are 4 pages of instruction in the usual line drawing format that Eduard is famous for and which are so easy to follow. A painting guide is included in the instructions.
You will be required to fold the photoetch in this set, but if you have one of the Hold & Fold photo etch benders from The Small Shop, then this will be an easy process. They have a variety of benders for sharp corners as well as rounded corners and in many different sizes.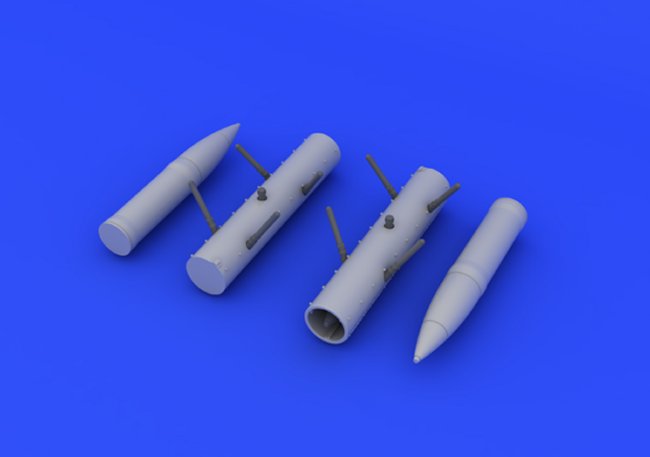 The WGr.21 rockets were one of the more interesting weapons used against the American bombers as they permitted attacking from outside the range of the bombers defensive guns. The accuracy was only about 15% for this weapon, but the thinking was if a whole squadron launched their rockets at the same time into a tightly packed bomber box, then it would be successful. I have heard of them being used on the Fw 190 and I was pleased to see this set for the Bf-109.
The detailing is good and the struts and rocket tubes have great detail. The photo etch parts just complete the package perfectly.
You can buy this detail set and thousands of other items directly from Eduard Model Accessories.
Images in this article are by Eduard Model Accessories.
Steve Bamford