This resin set from Eduard is part of the Brassin series and is available directly from Eduard Model Accessories. This set includes four R-73 / AA-11 Archer missiles with pylons in 1/72 scale.
The AA-11 NATO Archer is a short-range infrared guided missile system employed by the MiG-29 and the Su-27. Its advanced control surfaces and thrust vectoring, coupled with excellent off-boresight capability and the pilot's helmet-mounted sight may give it unparalleled performance in the close-in, visual dogfight.
This resin set includes:
four complete R-73 / AA-11 Archer missiles

four pylons

four seeker head covers

2 types of rocket motor exhausts for each missile

front winglets separately made from photo etch

tail winglets are made from resin

decals for missile markings
There are 2 pages of instruction in the usual line drawing format that Eduard is famous for and which are so easy to follow. The instructions also include painting instructions.
You will be required to fold the photoetch in this set, but if you have one of the Hold & Fold photo etch benders from The Small Shop, then this will be an easy process. They have a variety of benders for sharp corners as well as rounded corners and in many different sizes.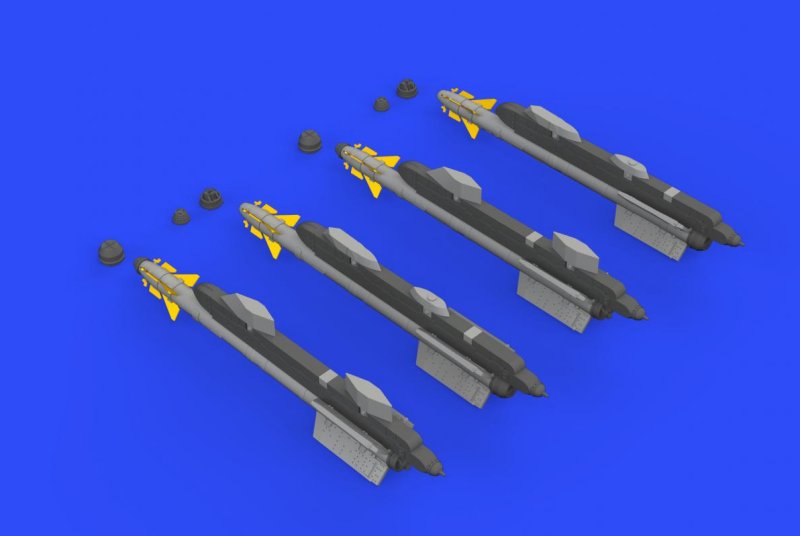 These R-73 / AA-11 Archer missiles are beautifully detailed and would be the perfect addition to your MIG-29 and the Su-27.
You can buy this detail set and thousands of other items directly from Eduard Model Accessories.
Images in this article are by Eduard Model Accessories.
Steve Bamford